Chris Wallace Grills Cruz: 'You're Going to Block Senate From Taking Up a Bill You Support?'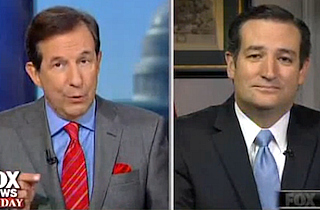 Senator Ted Cruz (R-Tx) appeared on Fox News Sunday to defend his push to defund Obamacare, which has landed him in trouble with his own party. Host Chris Wallace pressed Cruz on whether he had gotten the GOP into a fight with no clear strategy or end game, how he intended to get out of it, and if he would actually support the politically unpopular option of a government shutdown.
"Last week's vote was a tremendous victory," Cruz said of the House's passage of a continuing resolution that did not fund Obamacare. "Just a few weeks ago, no pundit in Washington thought it was possible we'd see the vote we saw on Friday…Next week is a time for party unity. Next week, all Senate Republicans, I hope, should come together and support the House bill. In my view, Senate Republicans should stand united to stop Harry Reid from changing the House bill, and in particular from inserting the funding with fifty-one votes."
But Cruz is in a jam, as he only has enough votes to deny cloture, not to stop Senate Democrats from amending the resolution to include funding for the Affordable Care Act, which means his only way of stopping the funding is to filibuster the very bill he called on the House to pass—leading to a goverment shutdown.
"[Harry Reid] wants to use brute political power to force ObamaCare through with just Democrats, exactly the same way he passed the bill three years ago," Cruz continued. "If he does that, then Senate Republicans have the tool we always use when the Majority Leader is abusing his power, which is we deny cloture."
"You say this is brute political power," a very-unconvinced Wallace said. "It's Senate Rule 22, which has been around for years. It's part of the Senate rules, and it says after you allow debate and take cloture, that you can pass an amendment by Senate majority. That's the rule!"
RELATED: GOP Rep. Peter King Goes Off: 'Ted Cruz Is a Fraud'
"You're right, that is one rule," Cruz responded. "But there is another rule that says it takes sixty votes to get cloture…If the majority's going to run the minority over with a train, the minority has the ability to stop them…Any vote for cloture, any vote to allow Harry Reid to add funding for Obamacare with just a fifty-one vote threshold—a vote for cloture is a vote for ObamaCare."
"If Harry Reid kills this bill in the Senate, I think the House should hold its ground and should begin passing smaller continuing resolutions one department at a time," Cruz said. "It should start with a continuing resolution focused on the military. Fund the military, send it over, and let's see if Harry Reid is willing to shut down the military just because he wants to force ObamaCare on the American people."
Wallace asked Cruz to respond to numerous angry Republican lawmakers, who are lambasting Cruz for talking big on defunding while kicking the onus of the movement back to the House.
"There are lots of folks in Washington that choose to throw rocks," Cruz replied, "but I'm not going to reciprocate."
Watch the full segment below, via Fox News:
[Image via screengrab]
——
>> Follow Evan McMurry (@evanmcmurry) on Twitter
Have a tip we should know? tips@mediaite.com