Chris Wallace Grills Nancy Pelosi About Her Support For Raising Taxes, Opposing Entitlement Reforms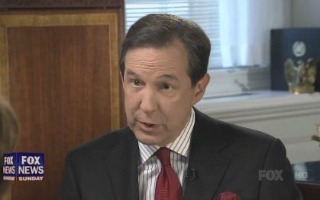 House Minority Leader Nancy Pelosi (D-CA) sat down with Chris Wallace of Fox News Sunday where she was grilled on tax and entitlement reform. Pelosi reiterated her opposition to reducing taxes or reforming entitlement programs. She said that the Affordable Care Act, reducing subsidies for oil companies, and increasing the taxes paid on investment income will significantly reduce the debt. There is no need, in her opinion, to change the structure of entitlement benefits.

RELATED: Nancy Pelosi To Fox News Sunday: It's A 'False Argument To Say We Have A Spending Problem'
"You keep talking about making the wealthy pay their fair share of taxes," Wallace began. He noted, however, that if the government were to completely confiscate the wealth of the nation's top earners, it would barely cover the federal budget deficit for a single year.
"The bottom line, Congresswoman, is you can't raise taxes enough to solve the deficit problem," Wallace said.
"We're saying it has to be balanced," Pelosi replied. "On the subject of the high end, we're not talking about raising rates – we did that." She said that the Democrats in Congress are now advocating for the elimination of tax breaks and subsidies for major petroleum producers. They also advocate for an increase in taxes paid on investment income.
"So, you're raising taxes on the wealthy," Wallace interjected.
"No, you're not – you're saying they should pay their fair share, which is 30 percent," Pelosi countered.
"The point is that you can't raise enough money – I mean, the main driver of the debt is entitlements," Wallace said. "60 percent of our budget, of our spending, is on entitlements."
He asked if benefits should be means tested and reduced for wealthy recipients and the age range for eligibility increased. "Isn't that the way to deal with the deficit?" Wallace asked.
"I'm glad you brought up Medicare," Pelosi replied. "Don't you think you should see if raising the age really does save money? Those people are not going to evaporate from the face of the earth for two years. They're going to have medical needs and they're going to have to be attended to. And the earlier the intervention for it, the less the cost will be and the better the quality of life."
Pelosi said she approved of scrutinizing the funds the government spends on all programs, but the cost drivers in entitlements are the cost of medical care itself. She said that the Affordable Care Act will reduce the cost of healthcare in Medicare specifically because the quality of performance will be evaluated.
"I think there is money to be saved there, and I don't think it has to come out of benefits for beneficiaries and I don't think you have to raise the age," Pelosi concluded.
Watch the clip below via Fox News Channel:
> >Follow Noah Rothman (@NoahCRothman) on Twitter
Have a tip we should know? tips@mediaite.com