Chris Wallace Grills Robert Gibbs Over Obama Admin.'s Insistence That Libya Attack Was Spontaneous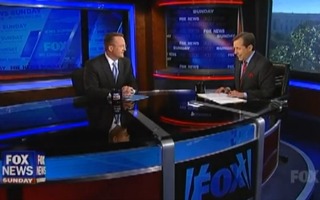 Following Obama administration officials repeated insistence that the 9/11/12 attacks in Libya which resulted in the death of Ambassador Chris Stevens were spontaneous, numerous reports suggest that the attacks were pre-planned. Former White House Press Secretary Robert Gibbs appeared on Fox News Sunday with Chris Wallace where he insisted that members of President Barack Obama's administration did not intentionally mislead anyone when they insisted that the attack on the American consulate in Benghazi was spontaneous.

RELATED: Jake Tapper Grills Ambassador Rice Over Foreign Policy: 'Why Does The U.S. Seem So Impotent?'
Wallace asked Gibbs about the numerous contradictions to official White House accounts that the attacks in Libya were the result of spontaneous protests arising from an anti-Islamic trailer on YouTube.
Wallace pressed Gibbs, saying that last week he asked U.N. Ambassador Susan Rice to respond to suggestions by Libyan officials that he events connected with the attack were pre-planned and not spontaneous. At the time, Rice insisted that the attack was an outgrowth of protests across the Muslim world directed at the offensive video.
"You look back at that answer and she says — the information – the answer, based on what she knew at that point," said Gibbs. "We've learned more and we're going to continue to learn more."
"No one intentionally or unintentionally misled anyone involved in this," said Gibbs." "We learned more information every single day about what happened. Nobody wants to get to the bottom of this faster than we do."
Watch the clip below via Fox News Channel:
> >Follow Noah Rothman (@Noah_C_Rothman) on Twitter
Have a tip we should know? tips@mediaite.com