Chris Wallace Remembers His Late Father On Fox News Sunday: 'I Can't Imagine Life Without Him'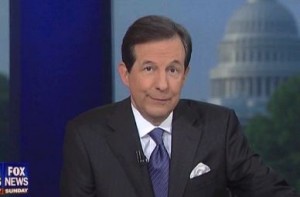 Chris Wallace returned to Fox News Sunday today, and obviously one of the biggest things on his mind today was the passing one week ago today of his father, legendary broadcaster Mike Wallace. Wallace opened by sharing an anecdote about father meeting his granddaughter Caroline. When Caroline learned her great-grandfather died, she drew a picture and wrote a note for him. Then, to give viewers a better idea of what kind of man he was, Wallace replayed a 2005 interview he conducted with his father.
RELATED: Chris Wallace's Statement On Father Mike's Passing: 'I Already Miss Him Terribly'
Wallace the elder dismissed criticisms of the media as too liberal as "damn foolish," and declared any American journalist, regardless of political ideology, to be a patriot. Wallace then went down the list of all the world leaders his father had interviewed over the years, and talked about that, through personal experience, he understood why some media writers believed his father to have an "underdeveloped sense of other people's privacy."
Wallace showed clips of his father getting a little too up close and personal with celebrities, including a little dig at Johnny Carson's drinking habits. When Wallace asked his father why he would joke about Carson being an alcoholic to the man's face, the elder Wallace answered, "He's a drunk!" Wallace asked his father why he asked such invasive questions of newsmakers and celebrities, and his father explained that these people understood the kind of interviewer he was before agreeing to come on. He added that he was inspired to pursue that kind of career after the death of his son Peter, Chris' brother, in 1962.
Wallace wrapped up the interview by asking his father if he "hate[s] getting old." His father said he didn't care for it, but he still enjoyed doing the same thing every day for his job. Wallace showed his father a video of his great-grandson at just a few weeks old, and the two men ended their interview by saying they could not be prouder of each other. Back in the present, Wallace said that following the interview with his father, he said that "there's no crying on Sunday talk shows."
RELATED: Fox News' Roger Ailes On Mike Wallace's Death: 'A Very Sad Day In Television'
And then Wallace ended with some words straight from the heart.
"Over the last two decades, my father became my best friend. He was so interesting, so much fun to be around, and yes, sometimes so exasperating. I didn't get into reporting, at least consciously, because of him. But we used to get such joy from sharing experiences with each other. So many times this week, I've wanted to ask him what he thinks about all the coverage of his life. And then I stop, and remember he's not here. That is going to take some getting used to. I can't imagine life without him."
Watch the full tribute below, courtesy of Fox:
Have a tip we should know? tips@mediaite.com
Josh Feldman - Senior Editor