Chris Wallace Repeatedly Grills Sen. Mitch McConnell To Explain How GOP Will Cover Uninsured
Sen. Mitch McConnell To Chris Wallace On 30 Million Uninsured: 'That Is Not The Issue'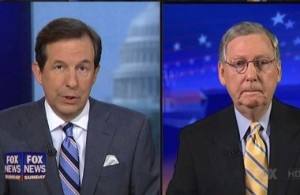 Senate Minority Leader Mitch McConnell dropped by Fox News Sunday today to give his reaction to the Supreme Court ruling upholding the Affordable Care Act. McConnell touted reconciliation as an option to repeal the health care mandate based on John Roberts' ruling that it is a tax. Chris Wallace, however, wanted McConnell to explain exactly what alternatives the Republicans have for covering uninsured Americans after the health care law is repealed, with McConnell saying at one point "that is not the issue."
RELATED: Bachmann Declares ObamaCare A Job Killer: 'No Greater Outsourcer Of Jobs Than Pres. Obama'
Wallace reminded McConnell that on Friday, he said if Mitt Romney wins the presidency and the Republicans retake the Senate, repealing the health care law would be "the first item on the agenda." Wallace brought up one provision in the law that provides health coverage for millions of people who do not have insurance, and asked how McConnell and the Republican party "would provide universal health care."
McConnell insisted repealing Obamacare would be the biggest improvement for the American health care system, but Wallace interrupted him to ask once again how, after "repeal and replace," the GOP would expand coverage. McConnell said he'd "get to it in a minute" before going right back to bashing the Affordable Care Act.
He said that the Republicans would put forth "modest reforms" in place of the law and would not simply take a "meat ax" to it. But once again, Wallace piped in to get McConnell to directly answer his question.
"I just want to ask what specifically are you going to do to provide universal coverage to the 30 million people who are uninsured?"
McConnell answered, "That is not the issue." Wallace shot back with, "You don't think 30 million people uninsured is an issue?"
RELATED: Ben Stein On Fox: Universal Healthcare A 'Moral Imperative,' But Will Hurt Economy
McConnell continued to rail against Obamacare, insisting it creates a European-style health care system in this country. Wallace brought up the issue of pre-existing conditions, which the health care law does cover, and asked McConnell how Republicans would deal with that issue. McConnell said that should be left to the states to work out and not the job of the federal government.
Watch the video below, courtesy of Fox:
Have a tip we should know? tips@mediaite.com
Josh Feldman - Senior Editor