Chris Wallace Responds To Joe Scarborough Remark By Refusing To 'Punch Down'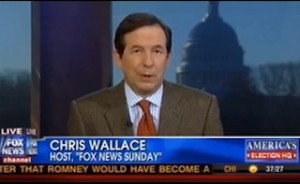 Cable News personalities are known for, at times, revealing an inflated sense of self-worth and influence on the field of public opinion. While it is hard to quantify who actually holds more sway than the next opiniotainer, the clashing of egos is always more entertaining than the egos themselves. Take for example the recent back and forth between MSNBC's Joe Scarborough and Fox News Chris Wallace, who find themselves in a bit of a fairly public and still blossoming feud.
On Friday's Morning Joe, Scarborough revealed to his viewers that "Chris Wallace has never made a secret of the fact that he loathes Mitt Romney — has never liked him." For good measure he then added "Wallace, of course, will deny it, and then throw an insult around because that's what he's done in the past."
During an appearance on Fox and Friends this past Sunday, Wallace was asked what he made of Scarborough's comments, to which the Fox News Sunday host made good on Scarborough's prediction by saying:
Some people say, and I will take this advice, don't punch down. Don't respond to folks that are silly and aren't worthy of a response. It isn't true. I suspect he knows it isn't true. I think he's trying to get to Fox with a network that gets higher ratings than he does. I'll leave it at that.
So for those playing at home you'll notice that Scarborough predicted that Wallace would deny loathing Mitt Romney and then throw an insult around. Wallace actually opened with the insult before denying any bias in his coverage of Romney. He also effectively used two time tested devices in cable news feuds: passive aggressive commentary and self-aggrandizement, all in the space of about 10 seconds.
Watch the clip below, courtesy of Fox News (H/T Johnny Dollar):
Have a tip we should know? tips@mediaite.com