Chris Wallace Reveals To Panel: Fox News Includes Contraception In Health Care Coverage
Chris Wallace: Fox News Includes Contraception In Health Care Coverage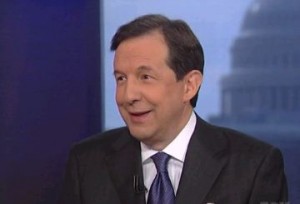 During the panel discussion on Fox News Sunday today, Chris Wallace brought the discussion around to birth control. He said that while Democrats, including President Obama, initially stumbled on the contraception question and gave Republicans the advantage to shift the conversation to religious liberty, the right has lost its foothold in the debate as well in the follow-up of Rush Limbaugh's controversial remarks and the failed conscience clause amendment the GOP pushed in the Senate last week. Wallace asked the panel which side now has the "upper hand" in the debate.
RELATED: Georgetown Student Sandra Fluke Responds To Being Called 'Slut,' 'Prostitute' By Limbaugh
New York Times reporter Jeff Zeleny said that the Democrats currently do because the strong size and influence of the female voting demographic, though like the rest of the general electorate, many women are still concerned about the economy, so it may not play as big a part voting habits as some might expect. Wall Street Journal columnist Kimberley Strassel argued that the Democrats can easily capitalize on the idea of insurers denying coverage of certain aspects of health care and nail down the idea that they cannot simply make exceptions for what they have a moral opposition to because it helps their cause.
Wallace mentioned that before the program he spoke to several of the women working at Fox and made an interesting discovery.
"It turns out that Fox News health coverage does cover… there's a co-pay but it does cover contraception.
Getting back to Strassel's point, Wallace noted that the Blunt amendment would allow any insurers, not just religious ones, could opt out of providing coverage for certain services if they hold a personal moral objection to it. Strassel shot back that the alternative is having the government decide what constitutes mandatory health care.
RELATED: Ron Paul Tells Piers Morgan The Contraception Mandate is 'Silly'
Juan Williams said he thinks the whole debate will end up hurting the Republican party because "they've antagonized women" too much, while Bill Kristol argued that the GOP can still win the argument on religious liberty.
Watch the video below, courtesy of Fox:
Have a tip we should know? tips@mediaite.com
Josh Feldman - Senior Editor