Chris Wallace Takes Apart Sen. Durbin's Defense Of Obama's Contradictory Handling Of Libya
Wallace Takes Apart Durbin's Defense Of Obama's Contradictory Handling Of Libya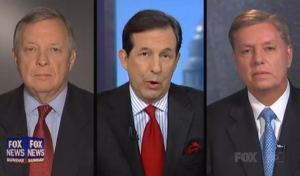 On this week's Fox News Sunday, Chris Wallace invited Senators Lindsey Graham (R-S.C.) and Dick Durbin (D-Ill.) for a foreign policy debate ahead of Monday night's foreign policy-focused presidential debate. They sparred over President Barack Obama's handling of the Libya attack — with Wallace pressing Durbin on his defense of the president.
Wallace asked Graham, after playing portions of Obama's Rose Garden remarks, whether the president and his team called the attack an act of terror from the beginning, adding, "Do you really believe that they were playing politics with the way they were spinning out this story?"
The administration "has a history of playing politics" with foreign policy, Graham replied, offering up their "leaking every detail" of the Osama bin Laden raid as an example. They have consistently leaked details from classified information, he argued, saying the reason they don't want to admit the Libya attack was tied to Al Qaeda is because it "undercuts the narrative" that bin Laden's death dismantled Al Qaeda.
Wallace noted that despite what the president says about his own statements, his team clearly refrained from deeming it a terrorist attack. White House Press Secretary Jay Carney and Ambassador Susan Rice being examples of those team members.
Durbin pointed to changing information following the attack, and went on to deny Graham's assertion that Obama's foreign policy record is dismal. Wallace interjected, noting that if the CIA's best intelligence right after the attack indicated a spontaneous demonstration, why then is Obama claiming he called it an act of terror the day after?
"Well of course it involves an act of terror whether it was a result of a spontaneous demonstration or something that was planned," Durbin said. "It is terrorism in any form."
Yes, but Obama's administration refused to say it in the first few weeks, Wallace countered — a point Durbin plainly disagreed with.
The last word went to Graham, who vehemently said there was nothing spontaneous about the attack, and the CIA said as much within 24 hours. He went on to issue a laundry list of points he said clearly demonstrated the failure of Obama's foreign policy.
The segment below, via Fox:

Have a tip we should know? tips@mediaite.com