Chris Wallace Takes Rick Santorum To Task For His Gays In The Military Comments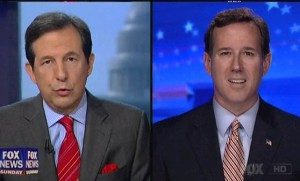 On Fox News Sunday today, Chris Wallace asked presidential candidate Rick Santorum about the now-infamous Fox News debate where a gay soldier was booed by several members of the crowd and questioned Santorum's response to the soldier's question about the controversial "Don't Ask, Don't Tell" policy.
During the debate, Santorum had stated that the military is not a place for sexual activity, and claimed ending "Don't Ask, Don't Tell" was the government "trying to inject social policy into the military. Wallace pointed out that the end goal of doing away with the policy was that gay soldiers would be on an equal footing with their heterosexual peers.
Santorum argued there was a difference because homosexual soldiers are serving in units with people they are attracted to while heterosexual soldiers are not. Wallace asked if Santorum was implying that gay soldiers would be fixated on the other men in their group as opposed to actually doing the job of a soldier, which Santorum outright denied saying. However, he did express concern that gay soldiers would be showering together with the other men, and the discomfort people might feel at that prospect might dissuade potential military recruits.
Wallace then read a quote that seemingly was in line with everything Santorum had been arguing previously.
"The army is not a sociological laboratory. Experimenting with policy, especially in a time of war, would pose a danger to efficiency, discipline and morale and would result in ultimate defeat."
Wallace attributed the quote to a World War II general arguing against racial integration of the military. Santorum suggested there is a big difference between race and sexuality, because one involves "activities" of a different nature as opposed to just being different. Wallace went down the line of Santorum's talking points and said the general's comments over a half-century ago were exactly in line with them. Santorum insisted on a clear distinction between the social climate then and now, and claimed that unlike race, sexuality is a choice.
Watch the video below, courtesy of Fox News:
Have a tip we should know? tips@mediaite.com
Josh Feldman - Senior Editor