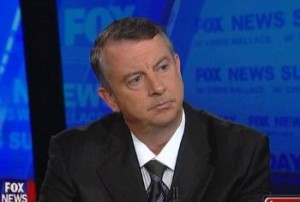 On Fox News Sunday earlier, former RNC chairman Ed Gillespie came on to defend the record of Mitt Romney, the GOP's presumptive nominee to go up against President Obama in the November election. Chris Wallace grilled Gillespie on Republican policies towards women, why they are doing poorly amongst Latino voters, and why the candidate is taking his time to get his tax releases out into the public square.

RELATED: Maddow On The 'War On Moms': "A Huge Big Political Fight In Which Both Sides Agree'
Wallace brought up Romney's support of the Paul Ryan budget, which would cut services that many middle-class women rely on, and his commitment to shutting down Planned Parenthood. He asked Gillespie how Romney could then try to sell himself as the ideal candidate for women to support. Gillespie argued that the whole Planned Parenthood debate boils down to whether or not one favors giving federal funds to the organization. Wallace noted that Congress has been funding Planned Parenthood for years, but not specifically regarding its abortion services.
Gillespie cited the statistic that over 92 percent of the jobs lost in the recession were women's jobs, but Wallace interrupted him to explain that it's inaccurate and it factors in job losses that happened before Obama took office. He still claimed that unemployment among women was at a significant high for the first time in years. Gillespie also briefly touched on high gas prices and the sacrifices women and their families have to make in order to afford filling up their cars.
Wallace then turned to Romney's positions on issues regarding Hispanic citizens. Romney supports the immigration enforcement law in Arizona, opposes the DREAM Act, and believes illegal immigrants should "self-deport." Wallace asked how much this would hurt Romney's chances getting the Latino vote against Obama. Gillespie said the whole question is based on the assumption that they are all just one-issue voters and they don't care about any political issue that doesn't deal with immigration in some way. Gillespie defended the racial profiling bill in Arizona as something that the majority of state citizens.
Finally, Wallace asked Gillespie about taxes and how Romney has asked for an extension on getting out his tax releases in the first place. Gillespie said many Americans ask for extensions when they need to wait for more information to come in first before they send in their information. He added that Romney has already released his 2010 tax information alongside an estimate of 2011 numbers, and Romney will continue to follow all the disclosure laws.
Watch the video below, courtesy of Fox:
Have a tip we should know? tips@mediaite.com
Josh Feldman - Senior Editor