Chris Wallace To Marco Rubio: Can Romney Win If Obama Is Crushing Him With Hispanic Vote?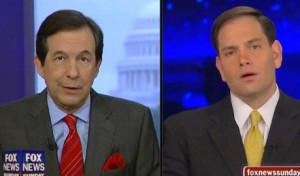 Senator Marco Rubio sat down with Chris Wallace on Fox News Sunday today, and naturally the conversation turned to the presidential election and the importance of the Hispanic vote. In four states with big Hispanic populations, President Obama is winning the Hispanic vote with a 2-1 margin over Mitt Romney. Wallace asked Rubio how Romney could possibly win if this is the kind of support he's getting from an important voting bloc.
RELATED: Eva Longoria Tells Andrea Mitchell: Romney Is On Wrong Side 'Of Every Issue Pertaining To Latinos'
Rubio disputed the notion that there is one collective "Hispanic vote" for either candidate to make a play for, because "it's just as diverse as the country is." He said that he has a cousin who serves in public office and happens to be a Democrat, yet they both came from similar backgrounds. When Wallace pushed Rubio to answer his question, the senator insisted that every state is different and suggested that Romney has an opportunity to take a majority of the Hispanic vote in Florida.
Wallace asked Rubio if he would be willing to help out Mitt Romney in any way he can to help in the general election. Rubio laughed, reading between the lines of Wallace's statement, and insisting that Romney has a "good team of people" behind him that will help him campaign and reach out to voters all across the country. Wallace dropped all subtlety and asked Rubio if he would accept the VP slot if Romney directly offered it to him. Rubio laughed off the question and said he doesn't want to talk about it at this point.
Watch the video below, courtesy of Fox:
Have a tip we should know? tips@mediaite.com
Josh Feldman - Senior Editor