Chris Wallace To Mitt Romney: Can You Understand Why Some Voters Might See You As Out-Of-Touch?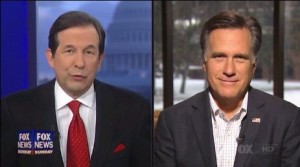 On Fox News Sunday today, Chris Wallace was rather direct with Mitt Romney in addressing the GOP candidate's falling poll numbers and favorability ratings. Wallace attributed these numbers to two important factors: 1) Romney's campaign turning into naught more than attacks on his rivals, and 2) the impression many people have that Romney is unable to connect with average voters.
RELATED: Chris Matthews: Romney Cannot Connect With Voters Because He Has 'No Evidence Of Having Suffered'
Wallace highlighted two clips of Romney from the past week that seem to support the latter argument. First, he played the clip from last week's CNN debate where in answering a relatively simple question about the biggest misconception of him, Romney insisted he would only give the answers he wanted to give. Wallace followed it with the clip of Romney saying that his wife "drives a couple of Cadillacs." Wallace asked Romney, "Can you understand why some voters would be put off by those things?"
Romney laughed and said, "I can't be perfect," before defending his car talk and general wealth.
"If people think there's something wrong with being successful in America, then they'd better vote for the other guy, because I've been extraordinarily successful and I want to use that success and that know-how to help the American people."
But as for claims that he's unable to connect with voters, he didn't really dispute that, Romney merely cited his frontrunner status in the GOP race and his ability to win crucial primaries. In fact, Romney was bold enough to declare that he's "expected to win the nomination."
Wallace ended by getting an answer to John King's question about what Romney thinks the biggest misconception is about him. Romney's answer: that he's from Massachusetts and therefore can't be a conservative.
RELATED: George Will: Romney Around Conservatives Is Like A Tourist Who 'Doesn't Speak The Language'
Watch the video below, courtesy of Fox News:
Have a tip we should know? tips@mediaite.com
Josh Feldman - Senior Editor