Chris Wallace To Rep. Bachmann: If Elected Would You Compromise With Democrats?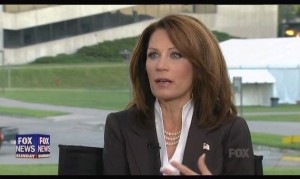 Coming off her victory in the Iowa straw poll, Congresswoman Michele Bachmann stopped by every Sunday news show to further expand her views and past statements. On Fox News Sunday, host Chris Wallace offered her a hypothetical scenario where she wins the presidency and the Republicans take the majority in the Senate, but she would not have a veto-proof majority in both houses. In that circumstance, would President Bachmann be willing to work with Democrats and find ground to compromise?
Bachmann said she is used to compromising on big issues, given that Minnesota is not known for being a big conservative state, citing education reform as one example of her willingness to reach across the aisle.
I was able to lead a movement to actually repeal Minnesota's education law that we had, and put into place something that had higher academic standards. That's how I cut my teeth in politics, on education reform… I brought together a coalition of primarily Democrats and independents to work with Republicans. Republicans were never going to get this through, but I brought a lot of Democrats and independents together. We actually accomplished it, and that's just one example of what we can do in Washington.
She was quick to clarify that she would never "compromise on principles, you lead with principles," but explained that minimal progress is still progress, and she would like to see the United States "go in the right direction," even if it takes several years of negotiations and compromise to do so.
Wallace then proceeded to ask Bachmann why, during last Thursday's presidential debate, she indicated that she would not support a debt deal with a 10-1 ratio of spending cuts to revenue increases, which many pundits characterized as a "hardline position." Bachmann described such cuts as "fake cuts" which are good for "soundbites" but they are not as rosy as they appear to be and nobody can anticipate what future Congresses would do differently.
Bachmann also defended her claim that she was "proven right" in her opposition to raising the debt ceiling by the S&P credit downgrade, and shifted blame onto the Obama administration for not having a concrete plan to deal with the debt ceiling, also pointing out that Treasury Sec. Tim Geithner had previously assured Americans there was no risk of America's credit rating being downgraded.
Watch the video of Bachmann's appearance here, courtesy of Fox News:
Have a tip we should know? tips@mediaite.com
Josh Feldman - Senior Editor