Chris Wallace's Fox News Sunday Dominates DC as Changing Competition Struggles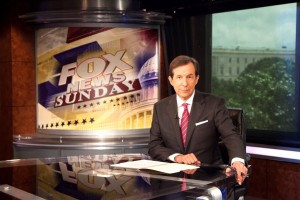 The Sunday morning talk shows have seen quite a change over the past year.
On NBC: David Gregory out, Chuck Todd in.
On CBS: Bob Scheiffer out, John Dickerson in.
On CNN:Candy Crowley out, Jake Tapper in.
On ABC: I've-worked-15 years-to-appear-somewhat-neutral George Stephanopolus out, I-just-threw-away-that-entire-impression-because-I-donated-$75,000-to-the-Clinton-Foundation-over-three-years-and-didn't-disclose-that-information-before-verbally-waterboarding-an-author-critical-of-the-Clintons-and-said-foundation-thereby-alienating-potentially-half-my-audience George Stephanopolus in.
Meanwhile, over on Fox, Chris Wallace continues to quarterback Fox News Sunday and doesn't appear to be going anywhere anytime soon. Nor should he. The 67-year-old son of the late Mike Wallace (60 Minutes) has hosted FNS for 12 years, and while the program has received its share of accolades over the years (Mediaite editors ranked it #2 in all of cable news, for example), it seemingly always struggled against its competition on CBS, ABC and NBC. Remember, the program is first broadcast on Fox TV, not Fox News, thereby pitting FNS against Big Three Network competition instead of just CNN (MSNBC has no such program, although Steve Kornacki's Up on Sunday mornings is arguably the best show on the network right now).
But with all the shift changes and/or controversy hitting Wallace's competition, combined with some buzzworthy interviews that weren't what one would call fun experiences for Democrats and (especially) Republicans alike, FNS has captured victories in the all-important D.C. market for two weeks in a row (industry execs will tell you winning this market is almost as important as winning nationally). And not just-of the eeking-it-out variety, but certified blowouts… beating NBC's Meet the Press in the 25-54 demo by 40 percent this past Sunday (note: a program that had won in the DC demo six of the prior seven weeks), ABC's This Week by 60 percent, according to Nielsen. As for CBS? Well… more on that in a moment.
D.C. — as you might guess — is the most coveted market of all of the Sunday talk shows from an influence and bragging rights perspective. Again, if you think Wallace goes easy on the GOP, just ask Marco Rubio or Paul Ryan if they agree after their appearances there recently.
What may be even more notable than Wallace's rise in D.C. is how poorly CBS has performed under new host John Dickerson (replacing a retiring Bob Schieffer). Per Nielsen, Face the Nation registered a 2015 low for the program and even scratched for the first time this year in the key 25-54 demo (a "scratch" occurs when a program's audience fails to meet the minimum Nielsen threshold). Overall, Dickerson's program fell over 40 percent from his debut as full-time host to this week. Not a good sign.
At the time of the CBS decision around Dickerson, it was noted in this space that he may not have been the best choice for the job. Short version: In guest hosting spots to serve as a preview, he simply came across as as average and generic. But Dickerson has the resumé–at least on paper–and 2016 numbers will be the true test when the campaign goes into high gear. Nobody roots against anyone in this business looking to make a go of it, so here's hoping Dickerson can right the ship with a few more at-bats under his belt.
Back to Wallace — who once moderated Meet the Press for two seasons in the pre-Russert era (bet you didn't know that) — it's easy to see why the program is performing so well: when comparing him to Todd, Stephanopoulos, Dickerson, Tapper, and Wallace, there simply is no better inquisitor, which is the key to everything in this genre (Tapper is a solid second). It's now to the point Wallace — like his father — may almost be too intimidating for some to consider sitting down with him.
Check out the following stats as proof.
So far during the president's second term, FNS is the only Sunday show with no exclusives with a White House guest, including President Obama. But ABC has landed 20 exclusives (including POTUS); NBC, 16 (including POTUS twice); CBS, 14 (including POTUS) and CNN 7 (including POTUS). And before you say the president simply doesn't like Fox because of its coverage of his administration on the cable network, (and has said so repeatedly throughout his term), it should be noted that administration officials and Mr. Obama himself have appeared on plenty of other programs on Fox News, including in primetime.
So the only fair conclusion is to say Wallace strikes fear in the heart of those considering going on the show. Exposure? Yes. Possible bad exposure via tough grilling? No thanks.
But as his audience and influence grows while the others shrink, there may be no other option but face the heat.
CBS is stumbling. CNN is changing. NBC is stalling. ABC is donating.
And through all the changes, the constant that is Chris Wallace is emerging as DC's biggest player.
— —
>> Follow Joe Concha on Twitter @JoeConchaTV
Have a tip we should know? tips@mediaite.com