Christian Radio Host Bashes Maddow And Her 'Demon-Possessed' Followers: 'The Spirit Of Antichrist Is Loose'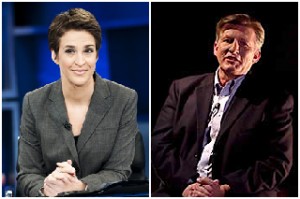 Christian radio host Rick Wiles was apparently flattered that Rachel Maddow decided to use him as an example of everything that's wrong with the right-wing media on her show this week. But that didn't stop him from tearing into the MSNBC host and her "demon-possessed" viewers on his radio show yesterday.
Maddow played a series of clips from Wiles on her show Tuesday night, in which the radio host talked about locusts following President Obama to Israel and accusing him of "sodomizing the nation."
"This is what this corner of conservative talk radio is like all the time now," Maddow said. "It's not just a one-off thing where the guy occasionally says something unintentionally super over the top and out there. This is the whole shtick now."
"I discovered that MSNBC's socialist news commentator Rachel Maddow played a soundbite of me on her program last night," Wiles said yesterday to his radio audience. "Thank you, Rachel. I appreciate the publicity even though there aren't that many people watching MSNBC, but I'll take all the publicity I can get."
But, he said the people who do watch her show have "visceral hate for Jesus Christ and Christians" and since he was featured on the program he has been receiving "ugly, hateful, threatening, vulgar, obscene" messages from her viewers. "I won't even repeat them because some of the things that they said about our lord and savior Jesus Christ is so vulgar," he said. "so blasphemous, that it only could be uttered by people who are demon-possessed."
Then, turning his ire towards Obama, Wiles continued, "The spirit of Antichrist is loose in America. A man of lawlessness is in the White House. His followers hate Christianity. And most of the American Christian church has yet to realize the scope and depth of this hellish hate that is boiling in the Obamanistas towards anybody who dares to profess biblical Christianity and morality."
Finally, making an inevitable comparison to the Nazis, Wiles concluded, "It is the same spirit that rose up in the Nazis in Germany towards the Jews. This time it will be the Christians in America who are locked up or put to death."
It is unlikely that Maddow's fans will think of Wiles any more favorably after this.
Listen to audio below:
(h/t Right Wing Watch)
—
>> Follow Matt Wilstein (@TheMattWilstein) on Twitter
Have a tip we should know? tips@mediaite.com