Christian Writer Calls Out Fox's 'Huckster' Todd Starnes for Lying About 'War on Christianity'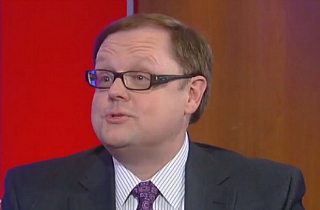 Sweet mercy! Last week at religion blog Patheos, Christian writer Alan Noble wrote a devastating critique of Fox News' resident "War on Christians" alarmist Todd Starnes, a frequent butt of Mediaite mockery.
"Todd Starnes Sold Us a War on Christianity. We Bought It," Noble lamented in the headline. The piece itself was an exhaustive fisking of the Fox pundit's attempts to scare fellow evangelicals into believing there's a war on Christianity being waged either by Muslims, atheists and "seculars," or "the homosexual agenda."
"When Starnes reports on an event, he will influence the way a lot of people think," Noble wrote. That's "alarming," he said, because Starnes "consistently deceives and manipulates facts in order to exaggerate or fabricate incidences of Christian persecution." After trudging through Starnes' social media posts, Noble rightfully concluded that "these reports influence a great deal of people who often respond with hatred, anger, and disgust out of ignorance."
Noble dug through two recent Starnes screeds — "VA Hospital Refuses to Accept 'Merry Christmas' Cards" and "Georgia Hospital Bans Christmas Carols." I won't go through the nitty-gritty details of each rebuttal because Noble's work is well worth a read on your own time but, suffice it to say, the Christian writer does a sufficient job pointing out the multiple ways in which each story is a hilariously overblown mess of lies, half-truths, and curious omissions.
This is not new for Starnes. Our own reporting on his histrionics is extensive. Fisking just one of his many "SOUND THE ALARMS, THE MUSLIMS AND/OR GAYS ARE COMING FOR YOU" segments is a frustratingly simple task. And he almost never responds to critics who point out contradictory facts about his conveniently-crafted stories.
Noble does point out one interesting point we've yet to make: Starnes has a penchant for including overwrought calls for rebellion against the government as he tilts at these "persecution windmills." For the VA Christmas cards story, Starnes wrote: "Our forefathers took up arms over tyranny like this." And for the hospital caroling story, he wrote: "I seem to remember our forefathers fighting a war over stuff like this."
Noble doesn't outright dismiss Starnes' concerns, however, conceding that "there are legitimate concerns and criticisms about religious freedom" while adding that the Fox writer's lies and misdirections "distract us from those conversations":
That's the thing about sensationalism and exaggeration: it hurts real efforts to address real issues. But in this case, there's more at risk. Starnes' lies should remind us that for many people and companies, Christians are a market demographic. They know our fears, our values, and our desires.

Starnes sells us what we want to hear. We want to believe that we are the underdog. And Starnes sells us that story, wrapped in language of patriotism and faith. For our own good, we need to reject and denounce hucksters like Starnes. For our own wisdom, for the witness of the Church, and simply because lying is wrong.
Just further proof that if Starnes must have airtime, Fox News would be better served giving this huckster more assignments like freezing cups of sweet tea in his official Duck Dynasty mug…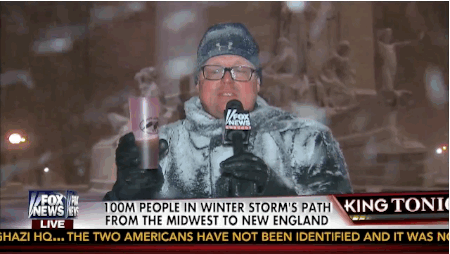 …rather than peddling his counterfactual religious scaremongering to their large audience.
— —
>> Follow Andrew Kirell (@AndrewKirell) on Twitter
Have a tip we should know? tips@mediaite.com