Christiane Amanpour Mocks Herman Cain In Hillary Clinton Interview From 'Beki-beki-beki-bekistan'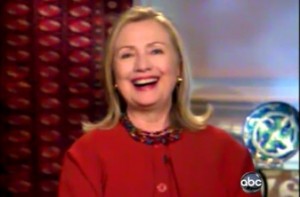 What a difference a week makes. Following his rocket ride to the top of the GOP presidential field, and a Bloomberg/Washington Post debate performance that made a star of his "9-9-9 plan," former pizza mogul Herman Cain has rapidly become a media punchline. That arc culminated Sunday morning when This Week host Christiane Amanpour opened her interview with Secretary of State Hillary Clinton by asking "Are you in Herman Cain's famously designated 'Beki-beki-beki-bekistan?'"

Secretary Clinton laughed, and told Amanpour, "Well, you know, there's a zero-zero-zero chance I'm going to comment on Republican politics.  But I am in Uzbekistan."
It's been a tough stint at the top for Herman Cain, who saw his "9-9-9 plan" ripped apart like chum in a piranha tank at Tuesday night's CNN debate in Las Vegas, and has endured several ghastly, self-inflicted wounds over his lack of foreign policy chops, his incoherent position on abortion, and the precise amount of voltage he'd like to apply to illegal Mexican immigrants. Ordinarily, such an intense media onslaught would benefit a Republican candidate with a media-wary base, but Cain's gaffes have been so substantial, it's hard to imagine this won't hurt him.
Amanpour quickly moved off the subject of Herman Cain, asking Secretary Clinton the media question of the week. "We all saw the video of the bloodied and dazed Muammar Gaddafi," Amanpour said, referring to photos and clips shown everywhere in the media, even here at Mediaite. "We saw him now lying in a freezer while Libyans take a look at him. What was your reaction to that video?"
Clinton's response was measured, comically so given her real-time reactions to news of Gaddafi's death. "Well, Christiane, you know, obviously, no one wants to see any human being in that condition, yet I know what a great relief it was to millions of Libyans that the past was finished," she told Amanpour, a far cry from her previous declaration that, "We came, we saw, he died!"
Amanpour also asked what the US would seek to do about convicted Pan Am Flight 103 bomber Abdel Baset al-Megrahi, who is alive and free in Libya. "We want to see him returned to prison, preferably in Scotland, where he was serving the sentence," said Secretary Clinton. "But if not, elsewhere, because we thought it was a miscarriage of justice that he was released from the sentence that had been imposed for the ghastly bombing of Pan Am 103."
Amanpour also asked about the announcement, this week, that American forces would be withdrawn from Iraq by year's end. Clinton reminded viewers that the timetable was established under President George W. Bush, and issued the curt warning, "…no one should miscalculate our commitment to Iraq, most particularly Iran."
Perhaps the funniest part of the clip, if black comedy is your thing, is Amanpour's delivery of the news flash that medical examiners have determined that Gaddafi died from a gunshot wound to the head. Did they have to call Quincy in for that one, or did they just turn on CNN?
Here's the interview, from ABC News This Week with Christiane Amanpour:
Have a tip we should know? tips@mediaite.com