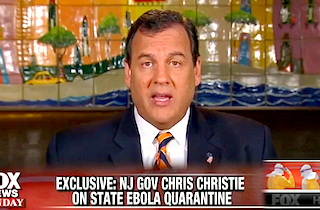 New Jersey Governor Chris Christie defended his state's just-announced quarantine of health care workers returning from west Africa, arguing that the self-quarantine system relied upon by the CDC was inadequate and that the government had a compelling interest in maintaining public safety.
"I think the CDC eventually will come around to our point of view on this," Christie told Fox News Sunday. "I don't believe when you're dealing with something as serious as this that we can count on a voluntary system. This is government's job. If anything else, the government job is to protect safety and health of our citizens. And so, we've taken this action and I absolutely have no second thoughts about it. …I think this is a policy that will become a national policy sooner rather than later."
RELATED: Dr. Fauci: 'I Cannot Explain' Treatment of Quarantined Nurse
Christie disputed the argument from Dr. Anthony Fauci and others that a quarantine system would be counterproductive by disincentivizing health care workers from going to west Africa, where the outbreak needs to be stopped.
"I believe that folks who want to take that step and are willing to volunteer also understand that it's in their interest and the public health interest to have a 21-day period thereafter if they've been directed expose to people with the virus," Christie said.
Watch the full interview below, via Fox News:
[Image via screengrab]
——
>> Follow Evan McMurry (@evanmcmurry) on Twitter
Have a tip we should know? tips@mediaite.com