Christie Dismisses TIME Cover: If Fat Jokes Bother Me, 'Time to Curl Up in Fetal Position and Go Home'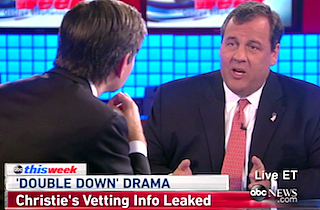 On This Week With George Stephanopoulos Sunday morning, New Jersey Governor Chris Christie addressed revelations in the book Double Down, which published his vice presidential file that had been leaked from the Mitt Romney campaign, and TIME Magazine's cover that many took to be a comment on Christie's weight.
Mark Halperin and John Heilemann's new backstage tell-all Double Down revealed details about the Romney campaign selection process for a running mate. A member of the campaign leaked Christie's file—which concluded that the governor had "too many red flags" to be a good pick—something Stephanopoulos said was unprecedented.
"Political advice from people who ran the Romney campaign is probably something nobody should really give a darn about," Christie said. "What Governor Romney said when he spoke last week was that none of this ever caused him any pause at all. So I'll take Mitt Romney's interpretation of all this, rather than some paid political consultant who was trying to make himself famous in the book."
RELATED: Media Pounces on TIME Magazine for Cover Implying Chris Christie is Fat
Stephanopoulos also queried Christie about the Time's cover showing Christie's silhouette under the headline, "The Elephant in the Room."
"If I'm bothered by jokes about my weight, it's time for me to curl up into a fetal position and go home, okay?" Christie said. "If they think that's clever, great for them! They run the magazine, they get to make the decisions. The way people in New Jersey look at this: their governor's been on the cover of TIME Magazine twice in one year, we must be doing something right."
Watch the full clip below, via ABC News:
[Image via screengrab]
——
>> Follow Evan McMurry (@evanmcmurry) on Twitter
Have a tip we should know? tips@mediaite.com