Christie Rejects Rand Paul's Offer To Grab A Beer And 'Kiss And Make Up': 'I've Got Work To Do'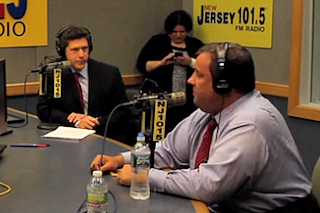 During his monthly "Ask the Governor" segment on New Jersey 101.5, Governor Chris Christie shrugged off Kentucky Senator Rand Paul's offer to deescalate their week-long spat in the media.
"I'm running for reelection in New Jersey, I don't really have time for that at the moment," Christie said of Paul's offer to grab a beer and "kiss and make up." "If I find myself down in Washington, I'll certainly look him up. But I don't suspect I'll be there anytime soon. I've got work to do here."
The two have been trading barbs over national security and spending, in a simmering rivalry that dates back to a dispute over Hurricane Sandy relief funding last fall.
RELATED: Krauthammer Dismisses Paul-Christie 'Civil War' On O'Reilly: More Like 'Tug Of War At A Family Picnic'
"I don't know why Senator Paul is so out of whack on this," said Christie. "I never called him any names, yet he called me names. I didn't use any childish phrases like, 'gimme, gimme, gimme,' he did. I just have to assume from that that he's trying to get some attention. And that's fine, he's not the first politician to use me to get attention in the national media, and I'm sure he won't be the last."
Christie insisted he never mentioned Paul in the original statement that started the feud last week, saying he merely answered a question that had invoked Paul.
"I was asked a question, I gave my opinion," Christie said. "It really had nothing to do with Senator Paul, but Senator Paul wanted to make this about Senator Paul."
Watch the full interview below, via New Jersey 101.5:

—
>> Follow Evan McMurry (@evanmcmurry) on Twitter
Have a tip we should know? tips@mediaite.com