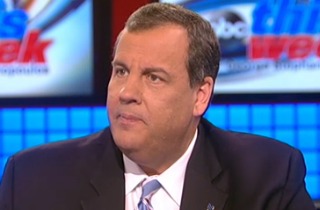 Governor Chris Christie has at least two differences from Rick Perry and Lindsey Graham: both served in the U.S. Military, and both have announced their 2016 presidential candidacy. But on Sunday, Christie told This Week host George Stephanopoulos that should he run, he would be the most "combat-ready" Republican to pursue the Oval Office.
The initial discussion saw Christie taking shots at the already-declared candidates. On Hillary Clinton, Christie asked, "how would she know what real Americans are concerned about," and on Jeb Bush, who just announced his 2016 run, Christie questioned whether he could work outside of a Republican legislature. When Stephanopoulos asked about whether Bush's experience as governor would be enough, Christie disagreed, saying that Bush has been spoiled by a lack of opposition because Florida is a solid red state:
I have great respect for Jeb, he was a very good governor, but if you're asking what are the things that make me different, I think I am combat-ready for Washington DC, and you need to be. In order to know how to work with people, how to bring them together. I've done that in New Jersey in a way that lead to me getting 63% in the reelection. People know I now how to bring folks together and how to fight when I have to.
Christie reiterated that he'll decide this month whether he will officially enter the expanding fray for 2016. For now, he says, he has to focus on his "day job" of governing a state with "a lot of back and forth."
"This decision is now up to me. I'll make it during the month of June and let everyone know that I'm the wallflower," Christie said.
You can watch the interview here, via ABC News:
[Image via Screengrab]
Have a tip we should know? tips@mediaite.com