Christie Tells Imus He Won't Jump Into A Brokered Convention, But 'I'm Going To Need A Job' In The Future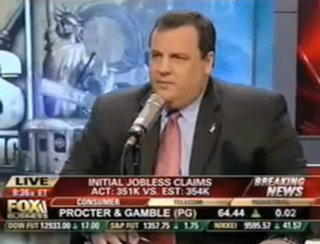 Who would have thought that Gov. Chris Christie would have such good chemistry with legendary radio curmudgeon Don Imus? The New Jersey governor visited Imus on Thursday morning, where the two chatted about everything from sneaking booze into Bruce Springsteen concerts to Christie's daughter's sweet 16.
RELATED: Jonathan Capehart Grills A Defiant Chris Christie On Same Sex Marriage Veto
The conversation began with the news that Springsteen was back on tour, and Christie said he was definitely going, though this time would need security. He didn't before, however, and Imus joked he used the opportunity to "get in with some bongs under your shirt." "Yeah, I snuck some booze in," Gov. Christie joked, "the beer is so expensive there, why not sneak in a couple of bottles?" They then shifted to the Whitney Houston funeral, and Imus thanked him for giving Houston her due despite her drug problem. "I saw some of the worst ides of our country in the aftermath of this," the Governor noted, and told those who criticized Houston for her drug woes, "there but for the grace of God go I."
They then discussed the budget a bit, and Christie teased Imus that the budget was much less expensive that "your good friend Jon Corzine's," which outraged Imus. "What's the matter with you?! That's why I supported you– I didn't know who you were, but you were running against him."
"Oh, I thought it was because of my fabulous physique," Christie lamented jokingly.
Christie also reiterated his support for civil unions and a referendum on gay marriage, and his certainty that he did not want to be president– at least not yet. Giving a brokered convention a "10% chance" of happening, he joked to Imus that, should they choose him, he would respond "I've got two words for you: Don Imus. It is time to have a cranky entertainer as president of the United States." As for running in the future? "I've got four kids, I'm going to need a job!" he joked.
The interview via Fox Business below:

Have a tip we should know? tips@mediaite.com