Christie to GOP: Reform Drug Sentencing and Be 'Pro-Life After They Get Out of the Womb'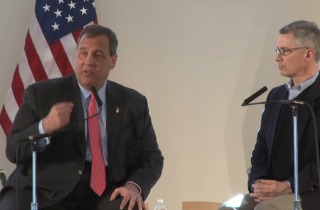 New Jersey Gov. Chris Christie delivered a message to his fellow members of the Republican Party on Thursday: being pro-life means reforming America's drug laws and criminal sentencing procedures. Christie has long advocated for drug treatment programs as a means of reforming the country's prison system, but Christie took a new tactic on Thursday when he framed that advocacy as a pro-life argument.

"I'm pro-life, and I believe strongly in the sanctity of life," Christie told an audience in Jersey City on Thursday.
Addressing his fellow Republican governors, Christie said that "it's great to be pro-life, but you need to be pro-life after they get out of the womb, too."
"If we believe in the sanctity of life, then we need to believe in how life is precious for every moment that God gives us," the governor continued. "If, in fact, that we believe life is precious — and I do — then the life of the drug-addicted teenager who has been arrested for the sixth time is just as precious as the life of any one of my children."
Christie said that conservatives don't want violent people on the street, and there is a "class of people" who deserves to be incarcerated, but there is another "class of people" who will benefit more from "help" than punishment.
"I don't believe this is a conservative, or moderate, or liberal issue," Christie concluded. "I don't believe this is a Republican or Democrat issue. Because, let me tell you, I know as many drug-addicted Republicans as I know drug-addicted Democrats."
Watch the clip below via NJ Governor's YouTube:
h/t Hot Air
[photo via screengrab ]
 — — 
>> Follow Noah Rothman (@NoahCRothman) on Twitter
Have a tip we should know? tips@mediaite.com