Chris Christie's Democratic Opponent: Chris Matthews Was An 'Ass' When He Interviewed Me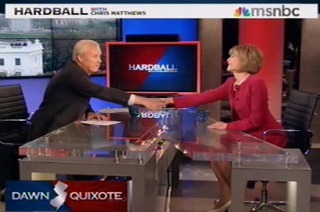 New Jersey Gov. Chris Christie's Democratic opponent in this year's gubernatorial election did not come away from her interview with MSNBC's Chris Matthews with an especially high opinion of the host. In an interview with BuzzFeed, New Jersey state Sen. Barbara Buono (D-Middlesex) recalled how she felt sexually objectified by Matthews and called him an "ass" due to his inflated estimation of the influence of his program.

In the interview with BuzzFeed's Ruby Cramer, Buono recalls the conversation that occurred just prior to her April 11 interview on MSNBC:
"Can I say you're attractive?" Matthews asks.

"No, you can't," Buono remembers responding.
Buono took exception to Matthews showering her popular Republican opponent with compliments over the course of the interview, calling him "no-nonsense," "outspoken," and "wildly popular."
She recalls also being frustrated with the chyron during her interview: "Dawn Quixote," which implied that she was tilting at windmills in her effort to unseat the popular governor of the Garden State.
"I admire your courage," Matthews said to Buono to open the interview which featured Matthews interrupting her "mid-sentence" 14 times.
RELATED: Matthews: 'All We Do Is Kill Arabs On International Television,' 'That Might Have Something To Do With Jihad'
"Oh, I was tough on you," Buono recalled Matthews telling her once the cameras were turned off. That's when the host of Hardball displayed an exceptional off-putting level of egotism.
Buono disagreed. "I wasn't gonna give him the satisfaction," she later recalled, two weeks after the April interview. "I said, 'No you weren't.' And he said, 'But don't worry, people will all just be talking about how you were on Hardball.'"
"That's what this ass said," Buono told Cramer.
Read the full interview below via BuzzFeed
> >Follow Noah Rothman (@NoahCRothman) on Twitter
Have a tip we should know? tips@mediaite.com