Christie's High Approval Proves He Has Yet To Anger NJ, Not That He Has Tamed It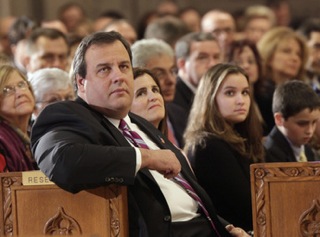 The numbers are out for Gov. Chris Christie, and a Fairleigh Dickinson poll out today spells great news for America's loudest governor: a 56% approval rating. A paltry number in other states, perhaps, but in New Jersey, those numbers seem impossibly high for any public servant at the state level. The Washington Post's Aaron Blake attempts to rationalize the numbers as the residents' fault: "New Jersey voters are notoriously tough on their politicians." As a lifelong resident of the Garden State, I object: it isn't that New Jersey voters are notoriously tough on their politicians– it's that New Jersey politicians are notoriously bad.
RELATED: Chris Christie Insiders: He Is 'Comfortable' Accepting Vice-Presidential Nod
Blake explains that 56% is a high number for a New Jersey politician by look at other numbers, mostly from Quinnipiac, for other prominent New Jersey officials. He begins with the numbers for President Obama, which present a good argument for New Jersey being a swing state, but not exactly for it being tougher than any other on the President: "President Obama hasn't gone higher than 56 percent approval in Quinnipiac polling of the state since June 2009 — slightly after he took office on a high note." The other politicians include Senator Bob Menendez, who "hasn't cracked 50 percent approval in at least the last two years," former Senator Robert Torricelli ("never cracked 50 percent"), former Gov. Jon Corzine ("barely cleared 50%" after getting into a car accident, his most popular achievement as governor), and Sen. Frank Lautenberg. Sen. Lautenberg's highest rating was at 55%– during his first term, which had concluded in retirement.
But that retirement was not to last for the very reason that makes clear it is not voter attitudes that dictate the low ratings of New Jersey politicians, but elected official behaviors. Blake euphemizes Sen. Lautenberg's return as something of a "comeback," prompted by his own desire to return. It's a euphemism for "cleaning up Torricelli's corruption mess"– a broken-down reelection campaign derailed by an ethics reprimand for accepting questionable gifts. His departure before they could charge him for anything serious came as a surprise to many– especially the state Democratic establishment– and prompted meaningful conversations in the Star-Ledger (the state's biggest paper) like this one, followed by the tenure of Jim McGreevey, whose own resignation amidst scandal proved just how futile that conversation was (and yes, that URL is correct: NJ.com does have an entire subsection entitled "Corruption"). Torricelli himself resigned defiantly, whining in his press conference departing from the Senate race, "When did we become such an unforgiving people?"
As for the others mentioned in the low-ratings round-up, the Jim McGreevey story is an oft-told one, of how he raised his approval ratings all the way up to 45% by, instead of plainly admitting he was paying a foreign friend six digits as a Homeland Security official when he got caught, came out of the closet as gay. And the sad but true story of how Corzine– a Senator-turned-Governor who shut the state economy down to raise taxes over the legislature's objections and is now known as the Obama supporter who mysteriously lost $1.2 billion— was most beloved when he was politically immobilized by an accident can perhaps be considered the peak in corruption that led to a U.S. Attorney winning the governorship.
And those are only the biggest fish in the viscous, money-green Jersey politics tank. Flitting around them are a cast of Greek tragic heroes that put most of the worst politicians in the rest of the country to shame: local characters like former Hoboken mayor Peter Cammarano (arrested on his 23rd day as mayor), former Newark mayor Sharpe James (who Christie attempted to imprison for 20 years, but got 27 months for turning government property into personal profit), and former Jersey City Deputy Mayor Leona Baldini, who faces up to three years for accepting bribes during the same operation that caught Cammarano.
Perhaps it is true that New Jersey is harder on its politicians that other states– a quick look around the national political landscape shows that, apparently, Louisiana voters forgave Sen. David Vitter, and Rep. Charlie Rangel's tax woes have done nothing to dethrone him. That the state has taken relatively warmly to Christie– despite the helicopter privilege abuse, allegations of potential pension double-dipping, and incessant shouting–is not a sign that Christie is exceptionally good or understands the state exceptionally well. It is only proof that he is what he promised to be since the beginning: a better politician than New Jersey has seen in a long, long time.
Have a tip we should know? [email protected]
---