Christie's Office Hits MSNBC's 'Gleeful Assault' over BridgeGate, O'Donnell Attack Ad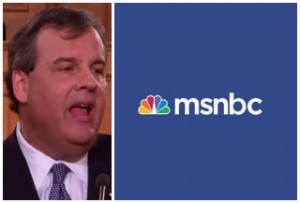 "BridgeGate" might not be helping Chris Christie much right now, but it is doing wonders for MSNBC. The liberal network has leaped on the scandal like no other, with segments and specials and rampant speculation about how Nixonian the whole thing is all over the place. And with the exception of a few of the network's stars, everyone at MSNBC is feeding on "BridgeGate" like a delectable news bounty.
And so, Christie's office actually issued a statement calling out MSNBC on Saturday for being practically overjoyed for a Republican scandal to cover. If you've been watching MSNBC in the past two weeks, you'll have noticed a plethora of appearances by New Jersey Democrats, be they state legislators or mayors. Steve Kornacki spoke to the mayor of Hoboken, New Jersey today, and she claimed that Kim Guadagno, New Jersey's lieutenant governor, extorted her over Hurricane Sandy funds for her city.
Combine all that with the fact that Lawrence O'Donnell actually wrote and showed off an anti-Christie ad on the air this week (an ethically problematic situation), you can understand why Christie's office may have just been a bit ticked off at MSNBC.
The statement was issued in response to Hoboken Mayor Dawn Zimmer's comments to Kornacki, but took several broad swipes at MSNBC's coverage in general.
"MSNBC is a partisan network that has been openly hostile to Governor Christie and almost gleeful in their efforts attacking him, even taking the unprecedented step of producing and airing a nearly three-minute attack ad against him this week," said the spokesman, Colin Reed, in a statement…

"The Governor and Mayor Zimmer have had a productive relationship, with Mayor Zimmer even recently saying she's 'very glad' he's been our Governor," Reed said. "It's very clear partisan politics are at play here as Democratic mayors with a political axe to grind come out of the woodwork and try to get their faces on television."
MSNBC was actually the first network that gave this story coverage in the first place; Rachel Maddow was keeping an eye on it for months before it blew up into a national scandal.
[photo via screengrab]
— —
Follow Josh Feldman on Twitter: @feldmaniac
Have a tip we should know? tips@mediaite.com
Josh Feldman - Senior Editor