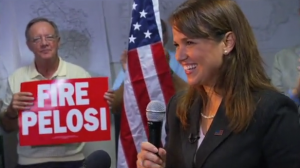 The Christine O'Donnell campaign has produced a 24 minute ad dedicated to persuading people to vote for the candidate tomorrow (or, at the very least, visit Delaware in the Fall because, gosh darn it, is it pretty looking!). Unfortunately, the ad isn't going to be persuading anyone to vote because, thus far, no one's been able to see it. O'Donnell's team paid for air time on a public access network that may have promptly forgotten to air it…twice.
This wasn't the first problem the ad has faced. From the Washington Post:
"The campaign did not purchase advance time on networks in the Philadelphia or Delaware markets, said a source close to the O'Donnell campaign, and the networks did not have time available to air the ad on such short notice.

So O'Donnell turned to a public access television station, Delaware Channel 28. She told supporters at a Tea Party Express rally on Sunday in Wilmington to watch that night at 11:30. 'Tell everyone to tune in,' she said at the rally."
That didn't go well either. O'Donnell's Twitter page tells the story the best. Read from the bottom up to see the disappointment build in chronological order: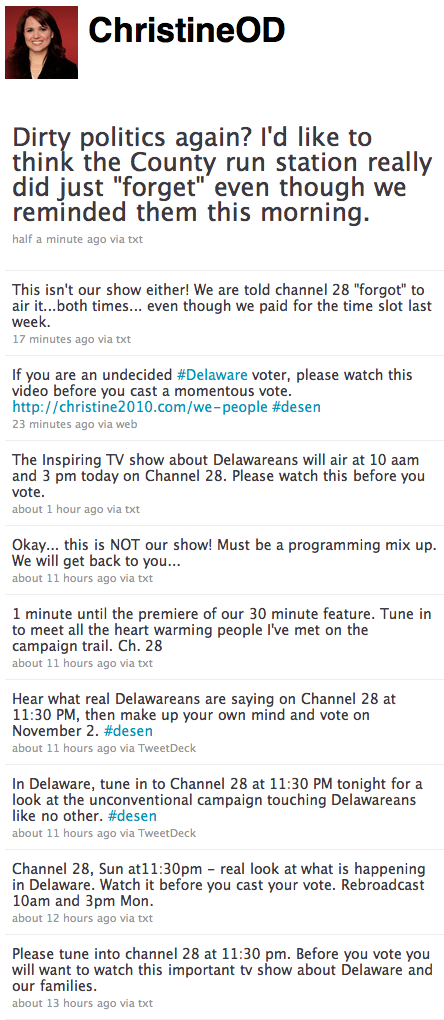 Yes, as the Post is reporting, the official line from the network is that they "forgot it." (UPDATE: see below) They're now currently airing it as this article is being written but surely that's not alleviating all of the campaign team's frustration. The Post's source claims that the group is planning to "go station to station with a DVD in hand begging anyone to run it."
Still, while this must have been annoying to the people behind the ad, like the Gawker disaster before it, this seeming media slight should only help build the O'Donnell sympathy in some quarters. And who wouldn't want to log onto Vimeo or other sites where the ad has been embedded (ahem, look below) to see the Christine O'Donnell video that The Man doesn't want you to see (or, actually, forgot to let you see)? With this story getting picked up by national outlets like the Washington Post, it's clear that more people will catch it than through the originally planned public access airings.
Whether those new eyes will stick around for 24 minutes of sad looking Delawareans talking about how much they hate taxes is unclear, but new eyes are still new eyes.
UPDATE: While the Post's source said the network claimed they "forgot" to air the ad, Tim Qualls, who operates the network, told CNN that the O'Donnell team brought it to them too late. From CNN.com:
"Qualls told CNN that the campaign was given a Friday afternoon deadline to submit the ad and failed to deliver it on time. He says he needs 48 hours from delivery to be able to put an ad on his channel.
'We didn't receive the show until Saturday night,' Qualls said in a phone interview. 'They showed up at my employee's house…at 11 p.m.'
Qualls, who said he's been inundated with phone calls, said he supported O'Donnell but 'she's losing my vote rapidly.'
'I hate the fact that she's put it out there that it's politics,' he said.
That would explain why it didn't air at 11:30 last night as intended but, if they did get it last night, you'd think it would have aired today as planned unless the employee in question lived too far from the station. If that was the case, you'd think O'Donnell would have known not to Tweet about the airing. Either way, it seems like the "forgot it" quote may have originated with O'Donnell's team.
Have a tip we should know? tips@mediaite.com