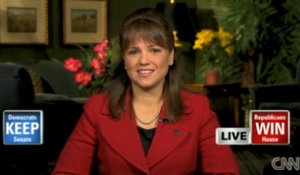 When Christine O'Donnell won the GOP nomination for the Delware Senate race, some senior and influential Republican personalities came out with remarkably critical rhetoric toward her candidacy. Some even called the contentious relationship between outside Tea Party candidates (like O'Donnell) and the Republican establishment as a "GOP Civil War." Appearing on CNN's American Morning today, O'Donnell sound a bit defiant in calling her loss a "symptom of Republican cannibalism."
CNN's Allison Harding writes:
"In other areas, where the establishment Republican didn't win their primary, the local Republican parties united right away. Solidarity goes a long way. Unfortunately, that never happened in Delaware," O'Donnell said during an interview on CNN's American Morning.

O'Donnell has frequently lamented her party's initial reluctance to back her candidacy since she beat longtime Rep. Mike Castle in the Republican primary in Septemeber.

"Sen. Cornyn says there was nothing we can do, we didn't have enough money. But if he and Karl Rove had said, look, she is articulate on the issues as many people after watching our debates were able to say…there was verbal support they could have offered as pundits, so to speak, that they chose not to for whatever reason," O'Donnell lamented.

"I think had Karl Rove immediately come out to support us, had the NRSC even helped us verbally, we could have closed the gap," O'Donnell said.
CNN's Kiran Chetry opened the interview by asking "what's next for Ms. O'Donnell?" and we already know what she won't be doing. Perhaps she will join Erick Erickson as a voice for the Tea Party on CNN?
Have a tip we should know? tips@mediaite.com