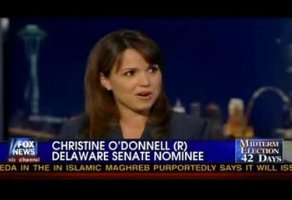 Christine O'Donnell made her much-hyped appearance on Sean Hannity's program tonight, hyped all the more by Hannity's introduction of her as "the woman the Democrats love to hate." Though she carried herself well enough in a friendly environment, overall her appearance unfortunately didn't merit the hype surrounding her primary victory…aside from the confirmation that this was her only national media appearance.
O'Donnell made that clear when Hannity referenced a recent Sarah Palin tweet saying:
C. O'Donnell strategy: time's limited;use it 2 connect w/local voters whom you'll be serving vs appeasing nat'l media seeking ur destruction
O'Donnell responded by saying Palin was "absolutely right" and that it was "great advice." O'Donnell added that she only appeared on Hannity because she "had some business in New York" earlier in the day. She was steadfast, though, that she's "not going to do any more national media," and that the possibility is "off the table" because she'd rather focus on the people of Delaware.
Of course, Bill Maher came up. Hannity noted O'Donnell "did his show a lot," to which she replied, "Unfortunately." She also termed her dabbling in witchcraft "rebellion"…and in one of the more (and relatively rare) interesting moments of the interview, said, "Who didn't do some questionable things in high school?"
As for her platform, it was boilerplate stuff: "get jobs back in Delaware, reduce the size of government, make our homeland strong once again." She also chided her opposition for personal attacks (rather than criticizing her political positions), saying they're "not attacking where I stand on stimulus…extending, if not making permanent, the Bush tax cuts…I want to permanently eliminate the death tax, two-year temporary tax holiday on the capital gains tax." She wasn't above such personal attacks herself, though, saying opponent Chris Coons "made some very anti-American statements" and noted his now-semi-infamous "bearded Marxist" lie about himself that was meant as a tongue-in-cheek crack.
Overall, we didn't learn a whole lot from this interview, except that it's the last one like it she'll do. And she's under pressure to live up to that vow: expect to hear a whole lot from Coons' camp if she does a spot on a similar show. And certainly don't expect to hear any less from people like Maher about her – that would have taken a whole lot more than what we heard tonight. Video of the interview is below.
Have a tip we should know? tips@mediaite.com