Christine O'Donnell: Tea Party Goes Beyond GOP; Includes 'Disenfranchised' Dems And Independents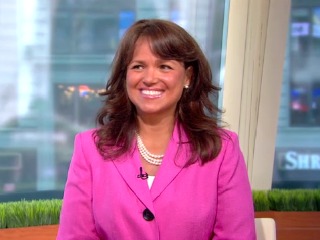 Former Delaware Senate candidate and Tea Party favorite Christine O'Donnell visited Good Morning America today to promote her new book, Troublemaker: Let's Do What It Takes to Make America Great Again, and to discuss how conservative candidates, particularly women, are treated differently. Oh, and she talks about her… bewitching… introduction into the pop culture spotlight. (Is it Friday yet?)
O'Donnell, as you're likely aware, became a fixture on media and gossip blogs last year after Bill Maher showed a clip from an appearance O'Donnell made on his show, Politically Incorrect, back in 1999. In the clip, which you can watch here, O'Donnell discusses having "dabbled in witchcraft" and going on a date on what turned out to be a "Satanic altar." (And you thought your first dates were awkward!) She, of course, addresses the incident in her book:
Calling it "one of the most bizarre pieces of political theater in recent memory," O'Donnell discusses the background of the notorious 2010 campaign ad and her sense of betrayal by Bill Maher, who dredged up a 1999 clip from the archives of Politically Correct, and showed it on his new HBO show, Real Time with Bill Maher. She writes, "This nothing comment about a guy I'd known back in high school [who believed in the occult] had set in motion what was starting to feel like a modern-day witch hunt—with me cast as . . . well, as the witch." Regarding Maher's antics, she writes, "I was stunned. More than that I was hurt, because it felt like a betrayal . . . I'd thought we were friends."
O'Donnell fought to clear up misconceptions about her with a campaign ad in which she stressed that she is "not a witch." She's able to laugh about it now (all in all, she comes across in her interview as an incredibly good sport about the whole thing… and it's SO REFRESHING to hear a politician admit to a misstep and be able move forward confidently), but admits that she "did hate it" and that it may not have been the best choice as far as her campaign was concerned. "Everything about the Tea Party movement is organic," she explained to host George Stephanopoulos, "and it's based on the gut reaction of everyday citizens who know common sense." That ad? Went against her gut feeling.
And then now we won the primary and everyone said 'trust the experts' and we were trying to win over the NRSC because they were not getting involved — the National Republican Senatorial Campaign committee — and this was their choice and that's where… anyone going forward in politics needs to take a huge lesson in that and that, if you've gotten this far, trust your gut, trust your instinct.
She continued:
I think the Tea Party goes beyond Republicans. It's Democrats, Independents and Republicans who are disenfranchised with what they see coming out of Washington.
And while Stephanopolous pointed to media reports that more and more people are turning away from the Tea Party, O'Donnell said this is at odds with what she's experienced "out in the field," as it were.
She also weighed in on Newsweek's now-infamous Michele Bachmann cover, calling it "absolutely" sexist and opining that female candidates are very much treated differently by the media, especially if they happen to be conservative.
Have a look at the segment, courtesy of ABC. And for excerpts from her new book, visit the ABC News website:
Have a tip we should know? tips@mediaite.com