Christopher: TheBlaze's Dana Loesch Pushes Misleading Right-Wing Junk to Fox's Megyn Kelly
Christopher: TheBlaze's Dana Loesch Pushes Misleading Right-Wing Junk to Fox's Megyn Kelly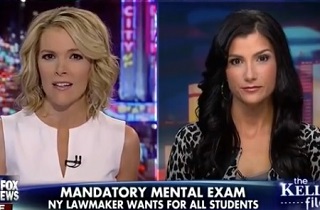 When Fox News' Megyn Kelly moved to 9pm, she promised the same hard news sensibility that she had brought to her afternoon show, and liberal media watchdog Media Matters fretted that Kelly was "more dangerous than Bill O'Reilly" because her more journalistic style might lend credibility to "partisan and misleading" stories. On Friday night's The Kelly File, The Blaze's Dana Loesch helped Kelly allay Media Matters' fears.
Kelly told her audience that "We are drilling deeper tonight on a new proposal that would make psychological evaluations mandatory for all public school students in the state of New York."
Kelly brought in conservative media star Loesch to discuss the measure, which Loesch mentions is currently in committee, and that deeper drilling consisted of Loesch promoting false and misleading conservative media paranoia, and Megyn Kelly thanking her for it.
The New York measure actually is a bad idea, but not for the reasons Kelly and Loesch identify. Loesch complains that the psychological exam would be required " twice in the elementary grades, twice in the secondary grades as well," which is true, but adds that "they have to make their entire, complete health history evaluation to the school district, any time the school district wants it, it's completely at the school's discretion," which she describes as "unbelievable overreach."
That requirement, for a health history and/or exam at the school's discretion, is already the law. The only change this bill makes to the law is to require a mental heath certification, and when Kelly asserts that the evaluation will be performed by "who knows who," she ignores the fact that the bill say who. It's a terrible idea because no doctor is going to assume the liability of signing off on a student who later becomes a huge problem, so the result would be an extremely small number of kids attending public schools.
Loesch then explains that this New York measure, which has not received a single vote, is all part of a broader strategy that includes "an effort to require parents to report any firearm ownership to their respective school district, and we know that with Common Core, and with all the data mining, there's been a lot of questions not only into the political beliefs of each student's parents, but also their religious believes and their extracurricular activities, that all has to be reported as a result of Common Core."
The "effort" that Loesch describes is a bill by a Democratic State Senator named Maria Chappelle-Nadal (D-MO), a bill that is stuck in committee in a state senate in which Republicans outnumber Democrats 24-9. This "effort" is roughly the equivalent of the push for the Mandatory Snowball Storage Act of 2013, as drafted and sponsored by Assemblyman Satan (R-Hell). Loesch's claim that "political beliefs of each student's parents, …their religious believes and their extracurricular activities" all have "to be reported as a result of Common Core" is a complete falsehood.
For a conservative media firecracker like Dana Loesch, of course, this is pretty normal, ginning up panic by drawing tenuous connections between dubious claims. In fact, this segment demonstrates the power and resilience of Dana Loesch. After a bitter separation from Breitbart.com and a quasi-blackball by CNN, she has more than landed on her feet. Loesch now has the run of Glenn Beck's website TheBlaze, and a much larger cable audience. As Kelly reveals in the final seconds of the segment, Loesch now also has a hand in influencing the editorial direction of a major hard news program.
"Dana, thanks for being here," Kelly said, adding "Thanks for bringing it to our attention."
Seconded.
Here's the clip, via Fox:
[h/t TRS]
Have a tip we should know? tips@mediaite.com