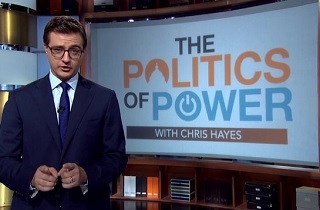 MSNBC host Chris Hayes has had quite a year, migrating from his buzzed about weekend show Up with Chris Hayes to a plum prime-time gig with his 8 pm All In, which had the good fortune of launching amid a ratings nosedive for the network, and with a two-week hole in the schedule as a lead-in. This Friday at 8 pm, Hayes will host the documentary The Politics of Power, which examines the opposition to any attempt to mitigate climate change, and to celebrate the occasion, Hayes and I sat down to talk about everything.
Ratings woes aside, Hayes' show has found a firm editorial footing, rooted in the host's own beliefs, and his sensibility that all legitimate sides of an argument should be listened to. Before our interview Tuesday, I had the chance to sit with Executive Producer Denis Horgan and observe a little bit of the preparation that goes into making the show, the workaday slicing of tomatoes and rolling of the silverware. Horgan, like Hayes' previous EP, Jonathan Larsen, is what I would call a true believer, both in the talent of his charge and in the mission of the show. Whatever your feelings about opinion journalism, that kind of sincerity is an indispensable asset to the format.
Located in the former offices of The Ed Show, All In's staff looks to be about triple the size of Hayes' former weekend show, and roughly the same size as The Rachel Maddow Show's. At 1:30 in the afternoon, they've all pretty much got their heads down, looking up only briefly in response to Horgan's genial "Everybody knows what they're doing?" to answer in the affirmative.
When Chris Hayes shows up for our interview, late from a lunch that probably included a secret Journ-O-List strategy session, he and Horgan go over a few items concerning that night's show. As with most shows that I've observed in this fashion, there are no overwrought Newsroom-style debates, but with All In, there's also no rat-a-tat showbiz detachment, no nods to sizzle over steak. The only consideration in play is how to best service the story. There's also a heartening tendency toward plain English, and away from the alienating jargon of the jaded journalistic wretch. With a lot of opinion journalism, liberal or conservative, you get the feeling the producers are just trying to rub raw their audience's ideological erogenous zones, but for better or worse, All In's manipulations are sincere.
With a big show to prepare, and a late start time, I expected our interview to be brief, but Hayes and I wound up talking for about 40 minutes. In addition to the upcoming doc, we discussed All In's creative trajectory, the emotional toll of the post-Ed Show ratings drop (spoiler alert: my attempt at a Barbara Walters moment was unsuccessful), the liberal schism on the NSA story, the state of race in America, and more.
[imageviewer id=841]
[photo via screengrab/MSNBC]
Have a tip we should know? tips@mediaite.com