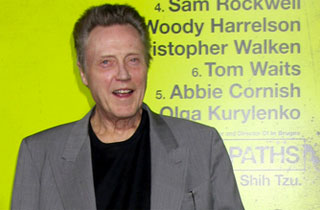 Not only is Christopher Walken slated to portray the iconic villain in NBC's upcoming production of the musical Peter Pan he's also supposed to tap-dance, which is everything beautiful in life.
The news of this piece of perfect casting was scooped by The Hollywood Reporter, and confirmed last night by NBC Entertainment chairman Bob Greenblatt. "He's one of the most unique actors in our business," Greenblatt said. "He might really just be a song and dance man at heart."
And now for some sad news: NBC wanted Kristen Bell to play Peter Pan, but the Frozen star was committed to Showtime series House of Lies. (It would have been so wonderfully perfect. So perfect.) And the problem with doing a live performance is that you need a famous person who's available:
"We were talking about doing it with a man at one point, but we've had several women who wanted to do it and they're either busy or their schedules don't work. It's not like we can film this at any time; I need this person from Aug. 5-Dec. 5, so that knocks out the Kristen Bells of the world, who was somebody I talked to about doing it and she was interested but she's doing House of Lies…It's tricky finding the right person in the schedule that we need it but we're actually close. [Peter is] going to be female."
Quick poll: what's the likelihood that Tiger Lily is going to be played by a Native American actress?
Also, here's some excellent proof of Walken's dance skills:
[THR]
[Image via Helga Esteb / Shutterstock.com]
—
>> Follow Tina Nguyen (@Tina_Nguyen) on Twitter
Have a tip we should know? [email protected]