Chuck Hagel: 'Grateful' To Have Chance To Strengthen American Security And 'Our Country's Alliances'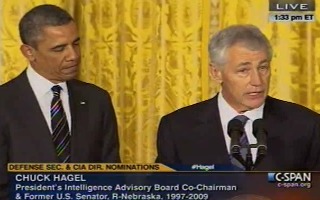 Former Sen. Chuck Hagel (R-NE) joined President Barack Obama in the White House on Monday where he accepted the president's nomination to become the next Secretary of Defense. Hagel spoke briefly as he accepted the nomination, saying that he hopes to use the post – if confirmed – to advance the nation's security, strengthen America's alliances abroad and broaden "global freedom, decency and humanity."

RELATED: Chuck Hagel Apologizes For 'Insensitive' Comments Made About Gay Ambassador
Hagel began his speech by thanking the president for the nomination. Hagel also praised his predecessor, presuming he is confirmed by the Senate, Sec. Leon Panetta.
"You are one of the premiere public servants of our time," Hagel said. "To follow you at the Department of Defense will be a most challenging task, but I will try to live up to the standards that you, Bob Gates and others have set for this job and this nation."
"I am grateful for this opportunity to serve our country again, and especially its men and women in uniform and their families," Hagel said. He said he will serve at a critical time, as most American combat forces return home from Afghanistan.
"I'm also grateful for an opportunity to help strengthen our country and strengthen our country's alliances, and advance global freedom, decency, and humanity as we help build a better world for all mankind," Hagel added. "I will do my best for our country, for those I represent at the Pentagon, and for all our citizens."
Watch the speech below via C-SPAN:
> >Follow Noah Rothman (@Noah_C_Rothman) on Twitter
Have a tip we should know? tips@mediaite.com