Chuck Todd Asks Cory Booker if Hillary Can Be Better Than Obama on 'Racial Reconciliation'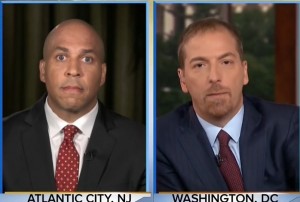 Talk of racial tensions dominated the Sunday morning talk shows in the wake of this week's violence by and against police, and on NBC News' Meet the Press, host Chuck Todd delivered something of a hot take on the issue when he asked New Jersey Senator and Democratic vice-presidential hopeful Cory Booker if he thought that presumptive Democratic presidential nominee Hillary Clinton could be better at bringing about "racial reconciliation" than our nation's first black president, Barack Obama.
Senator Booker responded by blasting presumptive Republican presidential nominee Donald Trump, but Todd parried by asking Booker if Hillary isn't just as "polarizing and as divisive" as Trump is:
CHUCK TODD: Senator Booker, let me ask it to you this way, though, about Hillary Clinton, can she be a president that helps with racial reconciliation in a better way than President Obama?

SENATOR CORY BOOKER: So let me just say this, we have to all understand we have a country with deep reservoirs of love. We are good people. We are well-intentioned people. And when called upon, we rise to an occasion. This is such an occasion. And I'm going to be very blunt. I've watched in pain when I see a presidential candidate, all of our words matter, whether you're a citizen of a presidential candidate, words matter.

And this is a time where we need courageous empathy, where we need undeterred love. And so, when I hear a presidential candidate like Donald Trump gratuitously demeaning women, demeaning Muslims, demeaning Latinos at a time where our country needs reconciliation, we need people that bind our wounds and build bridges across out chams. To see someone so callously stoking hate and fear and inflaming divide, this is not the person to be president of the United States, I believe ever, but definitely not at a time when we need a healer, a reconciler and somebody to remind us that as a nation, our differences matter. But our country matters more.

CHUCK TODD: Senator Booker, I understand you made the case against Mr. Trump, but how does Hillary Clinton, who is almost as polarizing and as divisive, how does she make the case that she's the candidate here for reconciliation?

SENATOR BOOKER: I patently disagree with you on issues of race and religious diversity that she is in any way polarizing. If anything, I've watched her in black communities and white communities and even after this tragedy, put forth the spirit of America, which is an understanding that as our founders said in the Declaration of Independence, this is a time we need to mutually pledge to each other our lives, our fortunes and our sacred honor. And she has manifested that on issues of race, of religion, of gender diversity. She is someone that can build our bridges and far more than the alternative. Someone who is injecting more divisiveness in this country through his rhetoric, through his affiliations. And actually, refusal to even denounce patent racists.
Trump has accused Hillary Clinton of "encouraging" the killings of police officers in Dallas, while Hillary Clinton has called for more responsiveness to the concerns of black citizens.
Have a tip we should know? tips@mediaite.com