Chuck Todd Asks If Clinton Impeacher 'Responsible' for 'Dividing' America for 'Couple of Decades'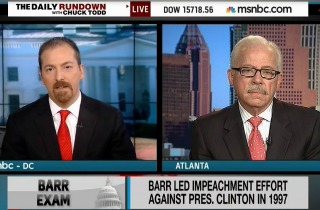 Former Rep. Bob Barr (R-GA) joined MSNBC host Chuck Todd on Friday to explain his recent claim on the InfoWars that President Barack Obama, much like President Bill Clinton, should possibly face impeachment. Todd pressed Barr on this claim and asked if the impeachment of Clinton over "sexual peccadillos" "divided this country" for "a couple of decades."
"So would you have — would you have tried to bring impeachment proceedings against President [George W.] Bush?" Todd asked, noting that Barr led the charge to impeach Clinton and has threatened to impeach Obama as well.
"I'm not in this race to impeach anybody," Barr replied.
"You say you're not in this to impeach anybody, but let me ask you this; do you feel you're partly responsible for this atmosphere of polarization that we have today?" Todd replied. "Impeachment was incredibly divisive."
"You could argue that the impeachment, going after the president at the time for his sexual peccadillos, divided this country to a point that we've not recovered from since," Todd continued. "So, why even joke about impeachment as you did on that radio show?"
"I don't know what you're talking about," Barr replied. "That wasn't a joke. I was asked a question about impeachment and I answered it very seriously."
"To claim that President Clinton was impeached for 'peccadillos' is nonsense," he added. "He was impeached for obstruction of justice and perjury. That may not be important to you, but to those of us in the House and a majority in the House, it was important."
Todd asked if Barr believed that Clinton's 1998 impeachment led to a lack of cooperation in Washington for nearly 20 years.
Watch the clip below via MSNBC:
[Photo via screen grab ]
— —
> >Follow Noah Rothman (@NoahCRothman) on Twitter
Have a tip we should know? tips@mediaite.com