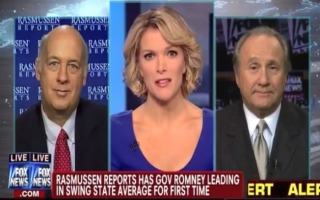 Scott Rasmussen, head of the public opinion polling outfit Rasmussen Reports, is often mocked and maligned by liberals and Democrats who see Rasmussen's results as consistently favoring Republican candidates. Rasmussen Reports, which deploys a likely voter model far earlier than many other pollsters, recently came under attack by NBC News' Chief White House Correspondent Chuck Todd who called their polls "slop." Today, Scott Rasmussen joined Fox News Channel's Megyn Kelly to respond to Todd.

RELATED: Bill Maher Takes On Rasmussen Polling: Distinguishes Itself By 'Taking A Side'
Appearing on CNBC's Squawk Box, Todd got into a heated argument over the validity of Scott Rasmussen's polls as compared with those commissioned by NBC News and The Wall Street Journal.
"We spend a lot more money polling than Scott Rasmussen does," said Todd on CNBC. "These guys are the gold standard. We spend so much money. So, it is unfair — I hate the idea their polling, which is rigorously done – has to get compared to what is, in some cases, you know, slop."
After Kelly noted that the head-to-head polls between Mitt Romney and Barack Obama are now tied or showing Romney leading after a strong debate performance last week, Kelly asked if Rasmussen would like to respond to Todd's assessment of his work.
"I'm happy to have competition," said Rasmussen. "Our polls, as you said, we've been showing this race to be close for a long time. As other polls shift to a likely voter model, they're showing the same thing."
Rasmussen said that his polling outfit showed virtually no movement in the final months of the 2008 campaign, and this year's polls have shown a 3 point race between Romney and Obama consistently for several months.
Kelly backed up Rasmussen's defense of his surveys, saying that a study from Fordham University in 2008 showed Rasmussen was the most accurate pollster in that cycle. In that study, NBC/WSJ's polling came in 13th place.
Watch the segment below via Fox News Channel:
h/t Johnny Dollar
> >Follow Noah Rothman (@Noah_C_Rothman) on Twitter
Have a tip we should know? tips@mediaite.com