Chuck Todd Cautions Matthews On Mitch McConnell Tape: 'There's A Chance This Really Is A Crime'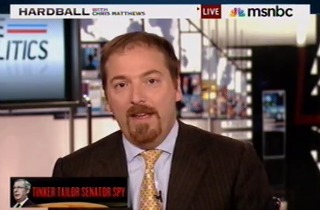 NBC News Chief White House Correspondent Chuck Todd cautioned Hardball host Chris Matthews on Tuesday that the secret tape of Senate Minority Leader Mitch McConnell (R-KY) release by Mother Jones magazine discussing avenues of attacking his potential reelection campaign opponents may be the result of a criminal act. The FBI has been asked to open a probe into how that audio was acquired, and Todd told Matthews that a federal crime may have been committed in this case.

RELATED: FBI Asked To Probe How Mother Jones Obtained Secret Audio Of McConnell Meeting About Ashley Judd
Matthews asked Todd what he thought the legal issues would be for the news outlets and publications that release the audio of McConnell to the public. Todd replied that most news organizations which only disseminate the audio would not be committing an offense, but the group or individual responsible for recording and releasing that audio could be held liable.
"There's a chance this really is a crime," Todd said. "That this tape was made illegally. This is the way the law is."
Todd said it is a federal offense to tape someone in a private setting without their permission. He added that it would have been legal in the state of Kentucky for an individual to record that meeting for personal purposes, but not to release it to the public.
"If nobody in that room knew they were being recorded, then a crime – then this broke a federal law, and that's why the McConnell campaign has asked the FBI to look into this," Todd concluded. He said that his sources within McConnell's reelection campaign have told him that they are certain they do not have a "mole" in their ranks who would leak sensitive and private material to a progressive publication.
Watch the clip below via MSNBC:
> >Follow Noah Rothman (@NoahCRothman) on Twitter
Have a tip we should know? tips@mediaite.com