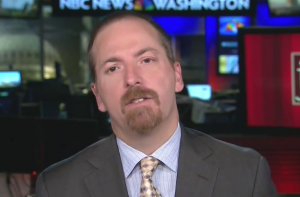 After another poll came out showing Hillary Clinton struggling in the 2016 general election against her Republican rivals, NBC's Chuck Todd said on MSNBC's Morning Joe that Democratic donors were "panicking."
"Chuck Todd, look at those numbers," host Joe Scarborough said while displaying the latest CNN/ORC poll. "This has been one of the worst months for Hillary Clinton than I can remember any candidate having– especially in August, where there's not supposed to be news. She's dropped 10 points in just about every poll, and here you actually have Ben Carson and Jeb Bush ahead of her."
Todd called the poll another low for Clinton. "Every time you think, okay, when is she at bottom, it feels like there's a new bottom," he said.
"A month ago when she was having bad poll numbers, when it was starting to go down, one of the things they hung their hat on is, 'Well, as bad as her numbers may look, she's still in better shape when matched up against any one Republican,'" Todd noted. "Well, that's not happening anymore, right? This is just pile after pile after pile."
Todd said that donors who would still be loyal when Clinton's numbers drop in the primary can't ignore poll numbers showing her doing terrible in the general. "Suddenly if her electability is in question, then that's when the handwringing truly begins and when donors start panicking. And I think they are panicking."
Watch, via MSNBC.
[Image via screengrab]
——
>>Follow Alex Griswold (@HashtagGriswold) on Twitter
Have a tip we should know? tips@mediaite.com