Chuck Todd Defends Obama's Lead In NBC Poll, Concedes Romney Holds 10 Point Advantage Among 'Day Of' Voters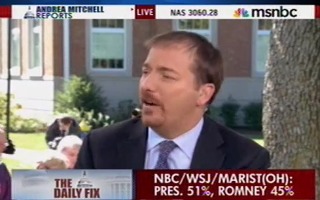 NBC News' Chief White House Correspondent Chuck Todd appeared on MSNBC's Andrea Mitchell Reports on Thursday to discuss the findings of an NBC News/Wall Street Journal/Marist survey of the battleground states – particularly those in Ohio. Todd said that President Barack Obama leads Mitt Romney in Ohio by 51 to 45 percent in that survey of likely voters and the president's lead is driven primarily by early voters. Todd said that Obama leads Romney 2 to 1 among early voters, and 1 in 5 voters in Ohio will or have cast early ballots. However, Todd noted that this poll shows Romney with a colossal 10 point advantage among voters who plan to cast their ballots on Election Day.
"While there are some folks that want to say party I.D. sample in our poll, it's too high, it's too many Democrats. Well, one of the reasons it is that there are so many early voters. And we found 1 in 5 that call themselves – that have already voted, well that's a 2 to 1 advantage for the Democrats," said Todd.
"These aren't likely voters anymore, they're voters," said Todd.
"But balancing those out are those remaining," said Mitchell.
"Those on Election Day, Romney has a 10 point advantage," said Todd. He went on to say that the Obama campaign's early voting strategy has outpaced the Romney campaigns. Furthermore, just because a polling outfit measures a voter as "likely" to show up on Election Day does not definitively mean they will.
Watch the clip below via MSNBC:
> >Follow Noah Rothman (@Noah_C_Rothman) on Twitter
Have a tip we should know? tips@mediaite.com