Chuck Todd Feels 'Physically Ill' GOP Used His 'Sloppy' Grimes Remark in Ad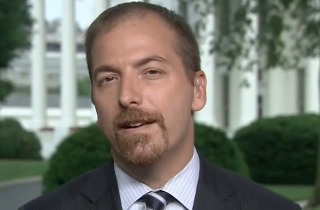 NBC's Meet the Press moderator Chuck Todd is still quite unhappy with the Republicans for using his remarks about Democratic Senate challenger Alison Lundergan Grimes in a campaign advertisement. So unhappy that, in fact, it makes him "physically ill."
Earlier this month, Todd suggested that Grimes' refusal to answer whether she voted for President Barack Obama "disqualifies" her from the race against incumbent Senate Minority Leader Mitch McConnell (R-KY). The remark immediately became fodder for anti-Grimes politics ads, much to Todd's chagrin.
Speaking with Media Matters this week, Todd said that being used in a political campaign makes him "literally physically ill" with heartburn.
Pressed on whether he still thinks Grimes' non-response constitutes a "disqualification," Todd wavered a bit, saying he may have "shorthanded the 'disqualify' line a bit" because of his frustration with politicians obfuscating on simple questions. Ultimately, he said, the line really referred to how voters will likely see her "because she's not being straight with the voters, and at the end of the day, honest and trustworthy."
Pushed further on what he meant by the infamous line, Todd insisted he meant it from a voter perspective, but conceded: "You can accuse me of being sloppy, of putting the words in my mouth and I should have put the words in the — in how this will impact, impact voters and impact the race. And, you know, that's where I was sloppy."
He added: "I don't take back the analysis. I mean, I think it's — I think that — you know, I think it was — I think she had run — she's been running a poor campaign. I don't understand how she's not made this about Mitch McConnell. Like, I'm still — for the life of me, I don't get how this is not a referendum on him. Right?"
Todd later concluded: "I just hate being a part of a campaign."
Read the full interview here.
— —
>> Follow Andrew Kirell (@AndrewKirell) on Twitter
Have a tip we should know? tips@mediaite.com