Chuck Todd: GOP Has Palin, Cruz to 'Blame' for Bad 'Treatment They're Getting from Democrats,' Obama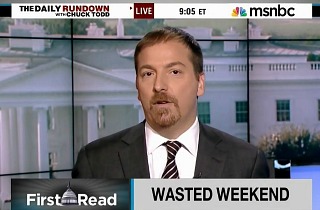 NBC News Chief White House Correspondent and MSNBC host Chuck Todd reported on Monday that tea party figures like Sen. Ted Cruz (R-TX) and former Alaska Gov. Sarah Palin helped scuttle a potential deal to raise the debt ceiling over the weekend when they led World War II veterans to march on the White House. Todd reported that the tea party Republicans are "doing everything they can" to keep the shutdown and debt ceiling standoff "alive."

"While the non-tea party Republicans are desperately trying to end this standoff, the tea party Republicans are doing everything they can to keep it alive," Todd said on Monday.
He said that Cruz and Palin attended a rally with elderly veterans at the WWII Memorial over the weekend where they were actively "fueling protesters who tore down barricades and carried them to the White House where they clashed with police."
RELATED: Chuck Todd: 'Unmitigated' Shutdown 'Disaster' Could Create 'Wave Big Enough to Flip' House
"Every time non-tea party Republicans want to complain about the treatment their getting from Democrats and the White House, they may only have these folks to blame," he continued.
Todd laughed after playing a clip of Cruz saying the Democrats in Congress should give up on the "games" that led to the shutdown and the debt ceiling standoff.
"The solution to the standoff, at least according to establishment Republicans, has always been to point out that the spending victories of the last few years are victories for the GOP and that they should declare that and move on," Todd continued.
"It's just one more example of how the tea party has been a net negative for the Republicans post-2010," he concluded. "Gave them the enthusiasm to win the House, but what's it done since?"
Watch the clip below via MSNBC:
[Photo via screen grab]
— —
> >Follow Noah Rothman (@NoahCRothman) on Twitter
Have a tip we should know? tips@mediaite.com