Chuck Todd Grills Jay Carney: 'Who Misled the President' About Obamacare 'Glitches'?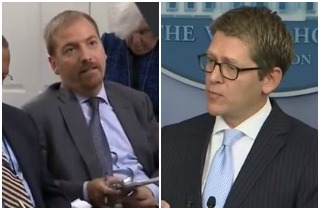 NBC News Chief White House Correspondent Chuck Todd dug into White House Press Sec. Jay Carney on Monday following President Barack Obama's Rose Garden address where he discussed the problems associated with implementing the Affordable Care Act. Todd repeatedly asked Carney who "misled" Obama and what advisors "let him down" ahead of the implementation of the ACA.

"Five days before the launch, the president said it's a website where you can compare and purchase affordable health care plans the same way you shop for a plane ticket on Kayak," Todd recalled. "Who misled him? Who misled the president on this?"
"Are you telling me five days before that somebody let the president go out to the American public to give this speech and say this and make this promise?" Todd continued. "In fact, the next line is, 'I promise you, this is a lot easier, it's like booking a hotel or plane ticket.' Who let him down?"
RELATED: President: Obamacare 'Not Just a Website,' and Despite Glitches, 'The Product Is Good'
"The president's frustrated," Carney replied. "He made that clear in his remarks today, and we're focused on making improvements so that the millions of Americans who want affordable health insurance are getting the best consumer experience possible, as opposed to Monday morning quarterbacking."
Todd and Carney went back and forth over whether either was qualified to discuss technical issues relating to websites. "The volume far exceeded expectation and the volume both created problems because of how large it was and exposed other problems and glitches and kinks with the system that are being addressed," Carney insisted. "You're not going to get an argument from here that this has not been frustrating. The president himself made that clear."
Todd said that Carney and other White House officials would be clear about what the problem with the websites were if they knew. Carney insisted that they continue to be "finding problems" but they will take constant monitoring and adjusting to correct all of them as they arise.
Watch the exchange below via C-SPAN:
h/t WFB
[Photo via screen grab ]
— —
> >Follow Noah Rothman (@NoahCRothman) on Twitter
Have a tip we should know? tips@mediaite.com