Chuck Todd Grills Trump on Being Thin-Skinned, 'Demeaning' Remarks 'Out of Mad Men'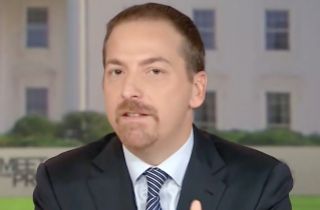 NBC's Chuck Todd grilled the hell out of Donald Trump on Meet the Press today over his "demeaning" comments about Megyn Kelly to why he doesn't take criticism well.
Trump continued to insist his "blood" comment about Kelly wasn't a reference to what people thought it was (and only a "sick" person would think so), but Todd said even if that's true, "You're still making a demonic or animalistic reference. It's still a demeaning comment, even by your new definition."
Trump didn't think so, kept attacking Kelly for being "angry," refused to apologize, and invoked what he said to Kelly's fellow moderator Chris Wallace ("a small shadow of his father") to ask if there's a "double standard" in the reaction to his comments about him versus Kelly.
Todd then really ratcheted things up by pressing Trump on being thin-skinned:
"Anybody that criticizes you, you've done it to me in the past when you've not liked something I've said, when somebody criticized you, you go after them, you find something in their physical appearance, you go after them personally. Why?"
Trump said he doesn't do that. No, seriously, he said he doesn't do that.
Todd also went down the roster of other "disparaging" things he's said about women, like "something out of Mad Men." Trump said he was "attacked viciously by those people" and, I swear to God, actually said, "It's very hard for them to attack me on looks because I'm so good-looking."
Watch the full interview here, via NBC:
[image via screengrab]
— —
Follow Josh Feldman on Twitter: @feldmaniac
Have a tip we should know? [email protected]
Josh Feldman - Senior Editor