Chuck Todd Halts Speculation By MSNBC Terror Expert That Bombing Suspects Had Interest In Jihad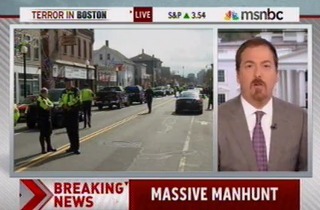 On Friday morning, NBC News' Chief White House Correspondent Chuck Todd halted speculation on MSNBC on Friday by terrorism expert Evan Kohlmann who began to speculate that an Amazon wish list purportedly linked to one of the Boston bombing suspects revealed an interest in Islamic jihad.

RELATED: Boston Bombing Suspect Killed By Police Posted Al Qaeda End Times Prophecy Video To YouTube
Kohlmann told Todd that the "electronic trails" of the suspects revealed some interesting things. He was cut off by Todd when he began to get into the Amazon wish list of Tamerlan Tsarnaev, 26, who was killed overnight in a shootout with police, included books on Islamic lore and jihad.
"I'm going to stop you there," Todd interjected. "We don't know for sure this is one of his Amazon wish lists?"
"I want to stress, we don't know for sure, but it is certainly his name…." Kohlmann replied.
"Our folks — we don't necessarily want to put this on air yet until we verify it," Todd added.
Kohlmann went on to speculate that the suspects may have been affiliated with a group or groups and may not have acted alone. He went on to say that the Islamic Jihad Unit, or IJU, is linked dot the region in Chechnya where the suspects were raised.
"Oh my God," whispers an off camera voice.
Kohlmann said that this group launched an attack on the American airbase in Ramstein, Germany, and claimed credit for it.
"I didn't mean to cut you off, but we don't want to draw so many conclusions," Todd interjected again, "We don't want to draw so many conclusions here. But your point is that this is the type of string that the intelligence community is going to start pulling at — is that right?"
Watch the clip below via MSNBC:
h/t POLITICO
> >Follow Noah Rothman (@NoahCRothman) on Twitter
Have a tip we should know? tips@mediaite.com