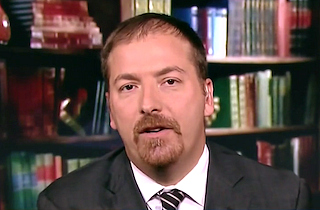 MSNBC chief political analyst Chuck Todd told a Morning Joe panel Tuesday morning that the White House's ability to negotiate over the continuing resolution in order to avoid a shutdown had been hampered by the fact that House Speaker John Boehner (R-OH) simply couldn't be relied upon to round up votes.
"If Boehner were the person to deliver votes, I think the White House would be negotiating," Todd said. "If Boehner were the person to deliver votes, Harry Reid (D-NV) could negotiate. The fact is he's not. There was a joke around the White House that said, 'Okay, we'll start negotiating, I guess we'll call up Ted Cruz. He controls more House votes than John Boehner."
"One of the complaints you hear from Republicans is, well the president won't negotiate," Todd said. "Who is he supposed to negotiate with? John Boehner—if he's not going to move a bill—he seems to be violating even the Hastert Rule, the majority of the majority. You talk to a lot of people watching Capitol Hill last night, and there were a majority of Republicans that would have just simply passed a three-week, four-week budget funding bill. This is a new rule, I guess. Maybe we'll call it the Ted Cruz (R-TX) rule or the tea party rule or the Boehner rule, which is don't go to the floor unless you have all of the votes in one party to get what you want."
Todd sympathized with Boehner for leading such an unruly caucus.
"Those sympathetic to Boehner will say he tried education strategy with this group," Todd said. "But if you put up a sign that says a road is a dead end, if you look down the street and see the brick wall that shows you the road is a dead end, with this group—and this is why they did what they did last night—Boehner apologists will say you actually have to get into the car and drive into the brick wall so they see that's a dead end. Okay. Now that the car is on fire, now that you can't drive the car, now that the wall is still up, okay, now we'll get it."
Watch the full clip below, via MSNBC:
[Image via screengrab]
——
>> Follow Evan McMurry (@evanmcmurry) on Twitter
Have a tip we should know? tips@mediaite.com