Chuck Todd: Middle East Crisis Could Be 'One Of Those Things That Derails The Election'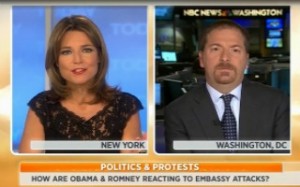 NBC News' Chief White House Correspondent Chuck Todd spoke with Today anchor Savannah Guthrie and discussed how he thinks the ongoing crisis in the Middle East would impact the 2012 presidential race. Todd said that this crisis could be an inflection moment in the campaign and became a point at which public perception turns against President Barack Obama.

Guthrie asked Todd what impact, if any, the protests in the Middle East would have on the campaign and if they exposed a weakness in President Obama's perceived strength on foreign affairs issues.
Todd said that it was possible that these events could negatively impact the president's poll numbers. He brought up the president's speech in Cairo shortly after taking office which seemed to signal a new era of outreach to the Muslim world. "To think that this is what we are seeing four years later – where America is being protested as if it doesn't matter who was president," said Todd.
"This is the type of event that could end up — looking back – it could be one of those things that derails the election," said Todd.
Guthrie asked if it was smart for Republican presidential candidate Mitt Romney to focus on the crisis in the Middle East, seeing as it could shift his focus away from the economy which is his strong suit.
Todd replied that the Romney campaign is at odds with itself over the appropriate direction to go. He said that the Romney campaign's focus on the economy had hit a ceiling, but there is a risk in focusing on a crisis that could abate at any moment.
"Foreign policy crises – as fast as they arise, they sometimes dissipate just as quickly – and the public may say, 'Hey, wait a minute. What about the economy,'" Todd said.
Watch the clip below via NBC:
> >Follow Noah Rothman (@Noah_C_Rothman) on Twitter
Have a tip we should know? [email protected]