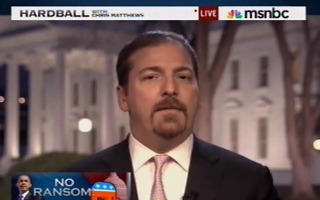 NBC News Chief White House Correspondent Chuck Todd criticized President Barack Obama's administration on Monday over the issue of the lack of diversity in the White House. Todd said that the White House was being held only to its own "higher standard," noting that the administration "raised the bar" regarding expected standards of diversity. When the president's reelection campaign "smacked around" Mitt Romney over his "binders full of women" comment, Todd says the White House invited this criticism.

RELATED: Candy Crowley Asks Panel About The Lack Of Diversity In Obama's Cabinet: 'Does It Matter?'
"Do you think he has somebody [he's] comfortable with naming [them] Chief of Staff who is not a white male, if you will," Chris Matthews asked Todd.
Todd said that Obama is considering people that he is comfortable with, though the two candidates he is presently considering for that role both happen to be male.
"Ultimately, in your Chief of Staff, You better be careful if you're playing too much — worrying too much about your outside politics, you could make a bad pick," Todd said, citing former Chief of Staff Bill Daley who he says was not a good fit for the Obama White House.
"I think that the White House is being held – they brought this higher standard on themselves when they smacked around Mitt Romney, and the 'binders full of women,' and the issues that they made in their campaign," Todd added. "This bothers them – this line of attack, it bothers the president – but that's why – they sort of raised the bar, if you will."
Earlier in the segment, Todd playfully admonished Matthews for having "three white guys" debate the issue of diversity in Obama's administration. Matthews good-naturedly chided Todd for his admonishment at the end of the segment, noting "if you knew how much I care about this — we all do."
Watch the segment below via MSNBC:
> >Follow Noah Rothman (@Noah_C_Rothman) on Twitter
Have a tip we should know? tips@mediaite.com