Chuck Todd: Obama at the Political Low of His Presidency, Hopes 'the Party Doesn't Abandon Him'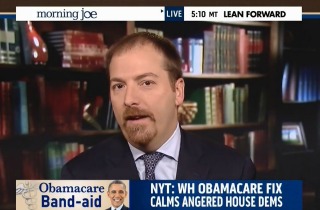 NBC News Chief White House Correspondent Chuck Todd told the hosts of MSNBC's Morning Joe on Friday that the problematic roll-out of the Affordable Care Act represents an all-time political low for President Barack Obama. He said that the president's press conference on Thursday was aimed more at Democrats in an attempt to keep them from abandoning him or his signature achievement.

"It seemed like he was trying to offer his party – the Democratic Party – and, basically, all the panicked Democrats on Capitol Hill a pound of flesh so that they don't vote for these other bills," Todd said of the bills circulating in the House and Senate that would allow those who have lost their health plans to keep them indefinitely.
RELATED: Chuck Todd: Obamacare Fixes 'Undermine Whole Premise of the Law'
Joe Scarborough and Todd remarked about how the president was more contrite during his press conference announcing "fixes" to the ACA than they had seen him before. "
"I talked to one of the old guard in Obama-land who said they've never seen that in private from him," Todd added. "This is a moment that he hasn't experienced in national politics before, is the impression that I was being given."
"This clearly is the low of his presidency politically right now," the NBC News reporter continues. "We obviously see it in the polls, but just the way he feels, his ability to lead the party, or, frankly, hope that the party doesn't abandon him right now in this moment."
Todd said that he was intrigued by the president's suggestion that he was not happy with his staff at the Cabinet-level, suggesting there might be a shakeup soon.
Watch the clip below via MSNBC:
[Photo via screen grab ]
— —
> >Follow Noah Rothman (@NoahCRothman) on Twitter
Have a tip we should know? [email protected]