Chuck Todd: Obama Avoiding Congress Because 'Isolationists' May Block Attack on Syria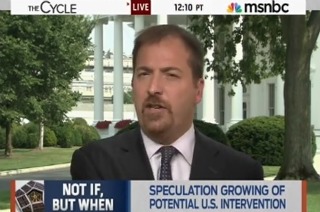 NBC News' Chief White House Correspondent Chuck Todd told the hosts of MSNBC's The Cycle warned that President Barack Obama may believe that seeking congressional authorization to attack Syria in the coming days would be counterproductive. The debate over a resolution would take too long and jeopardize too many Syrian lives, Todd said, if it passes at all.

MSNBC host Ari Melber noted that action against Syria will almost certainly come without congressional authorization. He noted that Obama has acted militarily abroad without specific Congressional authorization on multiple occasions during his first term.
Todd says that the Obama administration believes that the authorization to go to war after September 11th, passed in 2001, "loosely" authorizes Obama to attack Syria in response to their use of chemical weapons.
RELATED: Before Striking Syria, Obama Should Follow Bush's Lead
Todd added that, as long as action against Syria is relatively quick, the administration believes that they will be legally protected from claims that they violated the War Powers Act.
Todd added that a vote to intervene in Syria may not pass because "isolationists" in both the Democratic and Republican parties would attempt to block a resolution authorizing the use of force.
"Oh, by the way, it would delay any potential action," Todd added. "If you believe you've got to do this in a certain period of time to save lives because you're trying to make sure he doesn't use chemical weapons again, then you're sort of defeating the purpose of the quick action."
Watch the clip below via MSNBC:

—
> >Follow Noah Rothman (@NoahCRothman) on Twitter
Have a tip we should know? tips@mediaite.com